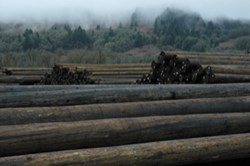 Bakersfield, CA (PRWEB) October 10, 2013
The Pacific Wood Preserving Companies (PWP) announced today that it has signed a definitive agreement to sell substantially all of its operating assets employed in its Nevada, Oregon, Arizona and Texas operations to wholly-owned U.S. subsidiaries of Stella-Jones Inc. PWP will keep the operating assets of Pacific Wood Preserving of Bakersfield, Inc., although the name of the company will change at a future date.
The transaction is expected to close in November 2013 and is satisfactory completion of environmental due diligence, assignment of certain governmental authorizations and permits and other customary closing conditions.
"I am confident that Stella-Jones will continue to operate the PWP businesses with a high level of respect for our customers, our employees, and the communities in which we operate," said Elaina Jackson, President and Chief Executive Officer of The Pacific Wood Preserving Companies.
The assets of the following PWP companies are to be sold: Nevada Wood Preserving, Inc., Pacific Wood Preserving of Oregon, Inc. and Arizona Pacific Wood Preserving, Inc. (which includes Arizona's operation located in New Willard, TX). These companies are commonly referred to as The Pacific Wood Preserving Companies.
About Stella-Jones
Stella-Jones Inc. is a leading producer and marketer of pressure treated wood products. The Company supplies North America's railroad operators with railway ties, timbers and recycling services; and the continent's electrical utilities and telecommunications companies with utility poles. Stella-Jones also provides industrial products and services for construction and marine applications, as well as residential lumber to retailers and wholesalers for outdoor applications. The Company's common shares are listed on the Toronto Stock Exchange.
For more information on the Pacific Wood Preserving Companies, visit http://www.pacificwood.com.