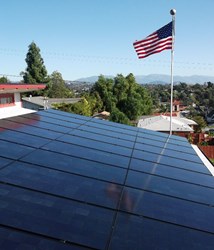 My bill averaged at $600 per month. Over a twelve month period we will save $6,000 a year.
Rancho Santa Margarita, CA (PRWEB) October 09, 2013
Residents in the Rancho Santa Margarita region have been feverishly signing up to go solar through community-wide Rancho Santa Margarita Solar Program. To date, more than a dozen residents have signed up to participate in the three month program, and over 40 property owners are considering custom proposals for their homes. Collectively, more than 80,000 watts of solar power are currently scheduled to be installed within the community. Given the high level of interest in the program, it is predicted by program administrator, Sullivan Solar Power, that an additional 125,000 watts will be scheduled before the program closes on November 15th.
"My bill averaged at $600 per month. Over a twelve month period we will save- $6,000 a year," said Coto de Caza resident Patty Levin, who was one of the first participants to sign up for the program, "Our investment will pay for itself in four and a half years."
The program provides Rancho Santa Margarita, Coto De Caza and Dove Canyon homeowners and businesses the financial tools to go solar for no money out of pocket. In most cases, the monthly payments participants have for their solar project is significantly lower than the electric bill that the solar power system eliminated. According to Sullivan Solar Power, a homeowner with an electric bill of $234 can go solar for $158 per month. In addition, after the system is installed, Sullivan Solar Power will pay participants in the Rancho Santa Margarita Solar Program to go solar, with the average homeowner receiving a cash payment of $2,000 from the company.
"We are really happy to see that Rancho Santa Margarita is responding favorably to the Rancho Santa Margarita Solar Program," said Daniel Sullivan, founder and President of Sullivan Solar Power, "People are getting paid to save money every month. This is our company's version of a stimulus program, and it works."
To inform Rancho Santa Margarita residents about the initiative, a solar program seminar will take place on Saturday, October 12th at 11 a.m. in the Bell Tower Regional Center at 22232 El Paseo, Rancho Santa Margarita CA, 92688. The presentation will last approximately one hour and lunch will be provided. Interested homeowners can expect to learn about solar technology, rebates and incentives and the Rancho Santa Margarita Solar Program.
To learn more about the incentive program, which expired November 15, 2013, call 1-800-SULLIVAN, or visit http://www.RSMSolarProgram.org.
About Sullivan Solar Power
Sullivan Solar Power is a turnkey solar system provider that delivers solar electric projects from concept to completion with offices in the Inland Empire, Orange County and San Diego. The company has installed more than 14 million watts of solar power ranging from residential to large commercial and municipal systems. Sullivan Solar Power has a longstanding A-plus rating with the Better Business Bureau, with no complaints filed since its founding in 2004. The firm has been named one of the nation's fastest growing energy companies by Inc. Magazine and services clients throughout Southern California. Regardless of project size and scope, Sullivan is committed to delivering the best products provided by the most qualified professionals to every customer. Visit sullivansolarpower.com for more information.
###