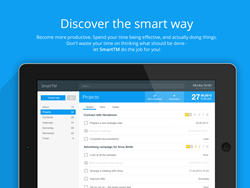 Torun, Poland (PRWEB) October 14, 2013
From today, users of SmartTM's will be able to store their data in the Smart Cloud. Synchronization of the innovative Task Manager with Smart Cloud will allow free access to tasks for both iPhone and iPad users.
"Since the creation of SmartTM, we have focused on designing solutions that enable users to work with the program intuitively and execute tasks efficiently. SmartTM's integration with Cloud provides seamless access to tasks created by the user, from different devices. Additionally, this version will pave the way for a web based version of SmartTM, which we hope to premier shortly." – said Marek Kulesza, CTO of OneMln.com
The web version will go to be verified by beta testers in the next few days whilst the OneMln.com simultaneously works on a version for Android and Windows 8.
SmartTM is an innovative task manager based on the methodology of Getting Things Done ®, which is available to users of iPhones and iPads . Integrating with Evernote, SmartTM received the award for Best Business Integration at this year's DevCup competition organized by Evernote.
For more information about SmartTM ® , please visit http://www.smarttm.co.