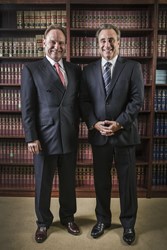 We're here to help, we're here to listen, we're here to find out the truth.
Birmingham, MI (PRWEB) October 10, 2013
Michigan attorney Scott Goodwin of the Law Offices of Goodwin & Sciezska appears in a series of online videos that provide a wide variety of helpful legal advice. The videos, ranging from 20 seconds to just under 10 minutes long, offer insight into the world of personal injury law, insurance claims, and general legal processes. Goodwin explains the steps an individual should take after being involved in a car or any other motor vehicle accident in one video, how to file for workers' compensation in another, and the nuances of laws behind Michigan dog bite cases in still another.
The 46 videos currently appear on Youtube and Goodwin's new website, which was launched in June of this year. The firm hopes that visitors to their website and anyone searching for legal help online will be able to gain valuable guidance from these videos. Goodwin says of the law firm he founded in 1986:
"At Goodwin & Sciezska, we're a positive force for change. We want to make sure… another family doesn't have to go through the situation that you find yourself in."
The law firm has a history of representing personal injury victims in the state of Michigan since its conception. From people injured in car, truck, and motorcycle accidents to children bitten by dogs, the Law Offices of Goodwin & Scieszka represents the injured parties against large corporations, insurance companies, and hospitals.
Goodwin explains his firm's mission, "We're here to help, we're here to listen, we're here to find out the truth."
About the Law Offices of Goodwin & Scieszka
The Law Offices of Goodwin & Scieszka has been investigating and winning cases for over 26 years and proudly hold the title of Michigan Super Lawyers for the last six years. Based in Birmingham, MI, Goodwin & Scieszka service the state of Michigan on a contingency fee basis. Goodwin & Scieszka specialize in accident and injury cases, and additionally take on cases related to dog bites, birth trauma, medical malpractice, workers compensation, and more.