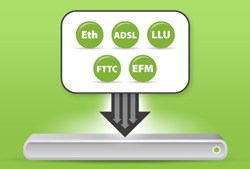 Evolving Networks is able to offer more advanced features to both new and existing customers.
North Vancouver, British Columbia (PRWEB) October 11, 2013
Bonded connectivity is designed to improve both network performance and resilience by combining multiple internet connections to form a single line, allowing users to benefit from the network resilience and aggregated throughput capacities of different technologies all through a single IP address. The popularity of bonded access has been, and continues to become, increasingly popular across the world.
As the established leading specialist provider of bespoke bonded connections for customers in the UK, Evolving Networks looked to Multapplied Networks for features that could do that little bit more to provide their UK customers with even better value added services.
Evolving Networks chose to work with Multapplied after demonstrations of the product and its ease of configuration presented a significant advantage. Nick Johnson, Managing Director of Evolving Networks, states "We look at the requirements of each customer and tailor bespoke bonded solutions for them on a case by case basis. It's important for our customers that we always have reliable, high-performance products and this is that kind of product."
As Evolving Networks offer future proofed connections to all their customers, it is at the forefront of their philosophy to find and develop products that can easily and affordably harness all available technologies in any location. "With the ability to scale the solution very cost-effectively, Evolving Networks is able to offer more advanced features to both new and existing customers. Our customers will be able to derive tangible benefits from this new partnership" said Nick Johnson.
"We're very pleased to have Evolving Networks as a part of our family of worldwide resellers," adds Jake McGuire, Vice President of Global Sales for Multapplied Networks. "We're also glad to see that the features and functionality that we built into our product are keeping us ahead of our competitors – and winning us new global partners like Evolving Networks."
Multapplied's advanced feature set will allow Evolving Networks to expand their product offering across the United Kingdom. Multapplied's solution will be fully integrated into the Evolving Networks portfolio and become a staple part of their product offering.
About Evolving Networks
Evolving Networks Ltd are the leading supplier of carrier and technology resilient bonded internet connections to the UK business market. Evolving Networks offer bespoke connectivity solutions individually tailored to both customer requirements and the available tail technologies at their location. Having developed the industry leading eView Live platform, which delivers full visibility, advanced diagnostics and monitoring over every connection, from a single site to a fully managed WAN, Evolving Networks also deliver unmatched technical support. Visit http://www.evolving-networks.co.uk or call on 0845 652 2212 to speak to a bonded connectivity expert.
About Multapplied Networks, Inc.
Our name may be new, but the people, the homework, and the rigorous testing behind our product is not. Multapplied represents the combined efforts of our founding companies – Kerkhoff Technologies and Rocket Networks – who have been building, testing and selling their unique solution to worldwide customers for over 4 years. Our vision is to be a world leader in providing intelligent data network acceleration and reliability services. Our mission is to change the status quo and provide very intelligent internet optimization and redundancy solutions so that businesses can have a more trustworthy and rewarding relationship with the internet. Learn more at http://www.multapplied.net.