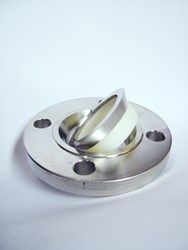 Fremont, NE (PRWEB) October 11, 2013
Recognizing the variety of applications and benefits, Riesa has confidence in expanding the markets using this Universal Non Weld Flange technology. In contrast to a traditional weld process this flange offers minimal down time, does not require a skilled laborer and is safe when working around Petroleum, Natural Gas or other flammable environments. Riesa has field tests of the Flange in use for more than five years proving the strength and reliability of the Universal Non Weld Flange. The flange is a perfect choice for both permanent and temporary installments.
The Riesa Flange designs have been proven to reduce stress when used as a connection fitting with pump attachments. The Flange corrects for full six degrees out of alignment. This correction, in many cases due to the design, eliminates misalignment issues within six degrees and in turn will drastically improve the life of pumps simply by eliminating collateral damage introduced. A misalignment may be caused by several factors ranging from install to improper maintenance and include many of the following residual characteristics:
-Bearing life of the pump and the driver may be reduced causing high temperature or oil leakage
-May cause shaft failure or breakage
-Coupling life may be reduced if excessive
-Other components with internal clearances within the pump, such as impellers, wear rings, and casings may wear prematurely
-May cause the pump and driver to operate with excessive or unusual noise
-May introduce vibration
The Riesa Universal Non-Weld Flange is a symbol of the pioneering spirit and teamwork that characterizes Riesa. Gary Riibe, Vice President of Riesa states, "We have created a unique solution, not for every situation, but one that is perfect in many everyday uses. When that situation arises, this flange will save you time and money."
Riesa's non-weld flange is third-party tested to withstand up to 150 psi of pressure. No welding, machining, grooving or specialized tools or training are required. The installation of a Riesa non-weld flange is a simple, speedy process.
There are two Non-Weld Flange Models that can be made of stainless steel or carbon and accommodate Teflon, Nylon and UHMW seals.
Splice Flange Model
In addition to our universal non-weld flange, Riesa also created splice flanges (model 21) which are designed to join two pipes, connect piping systems and repair splits, cracks and pinholes permanently. Use Riesa's splice flange to tie different types of pipes together. For example, you can use a splice flange to connect stainless steel pipes with carbon or PVC pipes.
Bolt-Up Flange Model
Like Riesa's splice flanges, the bolt-up flange (model 33) is designed to correct pipe stress caused by misalignments of up to six degrees. The bolt-up flange can also be used to install equipment into piping systems. Riesa's bolt-up flange is installed quickly, easily and without welding.
The Riesa Universal Non-Weld Flanges are available in a variety of standard sizes. Riesa can customize sizing to fit any application.
About Riesa
Patented in 1998 Riesa Flange Incorporated introduced the universal non-weld flange to the world and it quickly became an industry-wide solution. Its ability to connect pipes of different materials safely, simply and without welding is making it a popular piece in the industrial construction industry.
In 2000, Riesa Construction was established with a foundation of teamwork, integrity and safety. Providing construction, pipe fitting, welding, millwork and fabrication services along with the Riesa Flange. Riesa offers many state of the art solutions.
At its core, Riesa Construction is a team of talented and knowledgeable employees who believe working safely, efficiently and creatively is the best way to serve clients of all types and sizes.
Riesa Construction's commitment to and faith in its customers flows from our core belief that customers know their business best. As their project portfolio shows, Riesa Construction understands that sometimes clients just need a little help from a business that has the machinery and skilled staff to fabricate a solution to a problem that arises during construction, daily maintenance, untimely repair or complete a construction project safely and on-time.