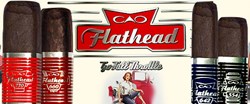 Gotham sells the CAO Flathead at a 34% cheaper price than the retail selling price.
Miami, FL (PRWEB) October 10, 2013
The CAO Flathead cigar line is now available and in stock at Gotham Cigars. Gotham sells the CAO Flathead at a 34% cheaper price than the retail selling price which is the lowest discounted price allowed by the manufacturer. The CAO Flathead cigar box is available for $114.95-$150.95 per box, containing 24 sticks each which is only $4.79-$6.29 per stick. The CAO Flathead Piston box contains 30 cigars per box which is an extra 6 cigars at an amazing low price of just $132.95 a box, which is only $4.43 per stick. Cigars are commonly sold in cigar boxes containing 20 cigars per box, but the CAO Flathead gives you more cigars to enjoy at the same great low price comparable to other cigar boxes, so now you can enjoy an extra 4 or 6 cigars per box available at a great and affordable price.
CAO cigars make it easy for cigar smokers to take a step back in time with the old school design of the Flathead cigar line. The unique design of the Flathead cigar box resembles an old engine block which hits at men's love for cars while also giving them great quality premium cigars. The Flathead is available in four different sizes all of which are named after different hot rod engine parts. The 4 sizes are the V642 Piston which is 6 ½ x 42; the V554 Camshaft which is 5 ½ x 54; the V660 Carb which is 6x60; and the biggest Flathead of all, the V770 Big Block which is 7x70. The CAO Flathead is handcrafted with a dark Connecticut Broadleaf wrapper, Connecticut Habano binder and Nicaraguan filler that is also mixed with a little bit of Dominican tobacco. CAO cigars are known by cigar lovers for their high quality cigars as well as their innovative cigar lines and packaging, and the CAO Flathead is just another reminder of the great cigars that come from CAO.
The CAO Flathead cigar was announced at the IPCPR 2013 trade show and was set to be delivered to retailers in October. The CAO Flathead is a big and bold cigar that packs a huge punch with every smoke, and at Gotham Cigars the CAO Flathead is available at such a great price making it easy to enjoy the rich and bold punch of the stick when you inhale, and not when you open your wallet. The CAO Flathead was inspired by a series of conversations that seemed to involve the same topics; girls, cars and cigars. The CAO Flathead cigar line brings together a 50's and 60's looking engine block cigar box, collectible flysheet with a pin up girl on it and premium box pressed cigars. The lid of the Flathead box also doubles as wall art for any man cave, just put the Flathead cigars into a humidor and hang up the engine block lid, sit back and enjoy the bold, spicy and full bodied experience from the CAO Flathead cigar.
Gotham Cigars offers customers one of the country's largest and freshest selections of premium cigars, Machine Made Cigars, Filtered Cigars and Humidors. Gotham Cigars has received five-star ratings by the most trusted online comparison websites for its huge selection, fast shipping and great customer service; Gotham Cigars has become a favored destination for buying cigars and accessories online in the US. All of their products have been thoroughly inspected by their manufacturers prior to arriving at the facility to ensure the highest quality for their customers. To learn more, visit http://www.gothamcigars.com.