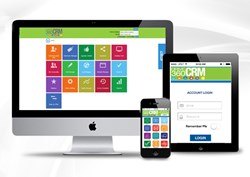 Amarillo, TX (PRWEB) October 09, 2013
It seems that Interactive 360 welcomes change and is making waves in the digital automotive sector right now. As one of the fastest growing digital marketing agencies in the industry, Interactive 360 is reflecting its growth by improving its website to offer quick access to key information, downloadable promotional materials, easy access to scheduling a demonstration of products and services, as well as the rollout of its proprietary tool, the Vendor Calculator.
The Vendor Calculator, aptly named, allows users to select their current marketing and technology tools that may be offered by multiple vendors or a single vendor. The user can input their monthly service fee total (minus SEM spend), or the tool will total the choices by industry average and then offer a package developed by Interactive 360 that meets or exceeds the user's current digital strategy. The benefit with this tool is that the user can see the value of their current tools compared to the value of the Interactive 360 package and potentially assess the amount of money they could save each month in service fees by using Interactive 360's package. With quick access to scheduling a demo, it takes the guesswork out of finding the value of different vendors as well as getting Interactive 360 package pricing without waiting for a sales presentation. However, dealers may opt for the presentation because of the added benefits that it offers. After participating in a 60 minute sales presentation, dealers receive Interactive 360's Objection Handling Training Cards. These cards reinforce the basics of the sales process and are a way to keep dealership sales teams on their toes without letting an opportunity slip by.
The new website will allow Drive360®CRM subscribers to log in from the homepage, access newsletters, press releases, awards and certifications, as well as allow job seekers to view available positions and apply for jobs.
Interactive 360, Inc. is a digital marketing agency based in Amarillo, Texas that offers a "one-stop solution" of products and services for their clients in the automotive industry, including: custom website, inventory management, Drive360®CRM, monthly onsite training, social media marketing and PPC marketing campaigns to name a few. Rick McLey, CEO of Interactive 360, Inc., believes "that in order for Interactive 360, Inc. to best serve clients in the digital arena, one cannot fear change but embrace it and constantly be eager to improve." For any questions you may have, please contact Interactive 360, Inc. via their website or by phone at 806.576.3700, or toll free at 888.762.7407.