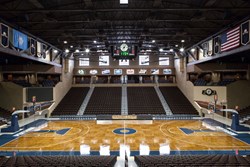 The Sanford Pentagon provides new opportunities for our guests to see a variety of high-level events right here in the Upper Midwest.
Sioux Falls, SD (PRWEB) October 10, 2013
The Sanford Pentagon opened its doors this month, deepening Sanford Health's commitment to improving health and wellbeing in the region. The five-sided, 160,000-square-foot facility houses a variety of programs to help keep youth fit and active while teaching them valuable life lessons through sports. It also holds events that will draw people from the entire Upper Midwest, creating a strong economic driver for Sioux Falls.
High-caliber events, including tonight's NBA exhibition game between the Minnesota Timberwolves and Milwaukee Bucks, will be held at the Pentagon. The University of Wisconsin and St. John's University (NY) men's basketball programs collide in a regular-season contest in November.
"The Pentagon provides new opportunities for our guests to see a variety of high-level events right here in the Upper Midwest," said Nate White, Sanford Health chief operating officer. "This facility aligns with the efforts in our community to maintain one of the region's healthiest environments in which to work and live."
Fans can also enjoy the NBA D-League's Sioux Falls Skyforce and the Northern Sun Intercollegiate Conference Women's and Men's Basketball tournaments.
The 3,200-seat Pentagon features nine basketball courts, including the 1950s/1960s- inspired Heritage Court, located in the center of the facility. Visitors to the Heritage Court will see state-of-the-art amenities — including high-definition video boards and executive suites—combined with period-specific finishes that are a nod to the nostalgic days of basketball.
Perhaps the biggest draw of the Pentagon is the small details. A dark-stained parquet floor, complete with a narrow-painted key for the purpose of aesthetics only, resembles the original Boston Garden. A center-hung scoreboard and two side units keep time using a traditional circling second hand. Light fixtures and simplistic signage emphasize the Hoosiers feel of the facility.
Visitors can enjoy the modern facility while youth gain the valuable athletic qualities of good health, team playing and sportsmanship.
"We want our youth to gain the benefits of sports," said Eric Larsen general manager of the Sanford Sports Complex. "It's so much more than just physical fitness. They can build character, self-esteem and a strong bond to each other – all in a modern facility with the latest in equipment and training programs."
A variety of basketball and volleyball training programs will be held for youth, including Sanford POWER Basketball and Volleyball academies. The staff has an extensive background in basketball and volleyball playing experience, ranging from youth to professional.
In the future, there are also plans to create a Sports Center of Excellence at Sanford, borrowing from the guidelines established by the U.S. Olympic Committee (USOC).
For more information, visit sanfordpentagon.com. A full photo gallery is available here.
About Sanford Health
Sanford Health is an integrated health system headquartered in the Dakotas and is now the largest, rural, not-for-profit health care system in the nation with locations in 126 communities in nine states. In addition, Sanford Health is in the process of developing international clinics in Ghana, Israel and Mexico.
Sanford Health includes 39 hospitals, 140 clinic locations and 1,360 physicians in 81 specialty areas of medicine. With more than 26,000 employees, Sanford Health is the largest employer in North and South Dakota. The system is experiencing dynamic growth and development in conjunction with Denny Sanford's nearly $700 million in gifts, the largest ever to a health care organization in America. These gifts are making possible the implementation of several initiatives including global children's clinics, multiple research centers and finding cures for type 1 diabetes and breast cancer. For more information, please visit sanfordhealth.org.