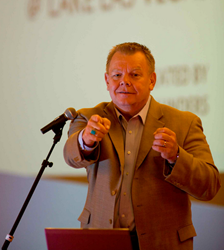 What would you do if you discovered the knowledge you needed to discover how your life could work better?
Las Vegas, Nevada (PRWEB) October 16, 2013
Donald Saunders unwittingly became the conduit of life-changing perspectives which integrated discoveries of modern medical science with mathematical calculations of multi-dimensionality and psychological tools for change. During this first interview, Psychologist Dr. Carol Francis explores with Donald Saunders powerful information from Saunders' newest book, "The Knowledge," on Dr. Carol Francis Talk Radio at http://www.blogtalkradio.com/dr-carol-francis/2013/10/16/the-power-of-knowing-how-life-works-with-don-saunders.
About the interviewee and author:
Donald Saunders is an author, speaker and entrepreneur. He spent thirty eight years as the western regional V.P of Kodak only to have his division sold off six months before his pension eligibility. From the ashes of his financial despair, utilizing a powerful personal experience, Don was able to rebuild his life and career. He now owns multiple retail establishments in Lake Las Vegas, as well as The BEAM Institute. At The BEAM he shares his unique perspective on today's business environment and human interactions in the workplace, providing an interesting look into the do's and don'ts of business, for both the employee and employer. Don's ability to transfer knowledge in its pure form is what makes Don a sought after teacher, speaker and business coach.
Author Donald Saunders is available at http://www.thepowerofknowinghowlifeworks.com
Book "The Knowledge" is available at: Amazon.com here. and on Barnes & Noble here.
Excerpts from ThePowerofKnowingHowLifeWorks.com written by Don Saunders:
"Waking up on the morning of November 17th, 2009, Don Saunders was suddenly overcome with paralysis and found himself receiving an empowering download of information, referred to as ''The Knowledge.'' During his amazing experience, he received clear understanding, answers, and insights, relating to The Power of Knowing How Life Works. As soon as this information was downloaded to Don, his paralysis instantly disappeared as quickly as it had manifested.
"I did not have an 'out of body' or near death experience;. ''The Knowledge'' came at me like a tornado and was downloaded all around me, surrounding me. There was a video running in my head that looked like a 3-D movie at the same time that The Knowledge surrounded me. The insights that accompanied The Knowledge provided me with the understanding of what had taken place. I knew that I just needed to find the words to represent the actual occurrence to be able to tell people what happened." – Don Saunders
You too have the ability to access "The Knowledge". Don was provided specific details about "How Life Works." The Knowledge he received will enable you to create , greater business success, rewarding relationships and help you to understand many things that may seem challenging or confusing in your life or career right now. This is not fiction or theory and if you become a student of this process you will be able to discover the depth that the knowledge he has in explaining how this all works, thus giving you your personal customized tools and the direction to rebuild your life and career.
What's in this for "you?" When you begin to apply ''The Knowledge," you will have embarked on a new and powerful journey for your life. You can begin to understand your past and manifest a better future. "You" and only "You" can make the choice as to whether this all makes sense."
Dr. Carol Francis is a Clinical Psychologist, Marriage, Family & Child Psychotherapist, Clinical Hypnotherapist in Los Angeles Beach Cities area and can be reached for consultations at 310-543-1824. http://drcarolfrancis.com.
Dr. Carol Francis Talk Radio is a production of Make LIfe Happen Productions. Communiques - DrCarolFrancisShow(at)gmail(dot)com or 310-528-4724.