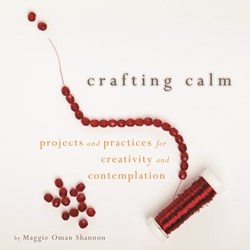 "The genius of this book is that is provides a practical and inspirational way of accessing contemplation and creativity."—Angeles Arrien
(PRWEB) October 10, 2013
Crafting Calm: Projects and Practices for Creativity and Contemplation by Rev. Maggie Oman Shannon received a starred review recently from About.com. Reviewer David Fisher, himself a soap-maker, writes about the book, "The marvelous projects in the book are designed to help us find and/or augment our personal spiritual practice. Shannon believes that through crafts we find connections to the world outside of ourselves. Whether we call it God, Spirit, the Universe, Creative Essence, the World or whatever – creativity and the act of creating something new out of something existing connects us to that universal energy. Through our crafts, we are all creators."
Fisher's review shows how those who do not consider themselves crafters, and veteran crafters alike can learn new insightfulness through these meditative projects. "I found myself with a new and deeper appreciation not only for my crafts, but also for all crafts."
Crafting Calm
Projects and Practices for Creativity and Contemplation
By Maggie Oman Shannon
In this wild and wired world, it is increasingly difficult to truly relax and find stillness within. Maggie Oman Shannon's Crafting Calm is a DIY guide to peace of mind, offering an abundance of ways to achieve serenity and satisfaction by living the handmade life. Listen while you craft! Crafting Calm is available as an audiobook.