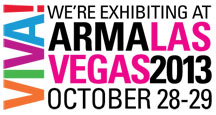 Houston, TX (PRWEB) October 15, 2013
Office Gemini will be attending ARMA's 58th Annual Conference & Expo held at the beautiful Venetian Congress Center in Las Vegas, Nevada. This conference will host recognized speakers who are known as the best in the business to educate and cutting edge technology tools to stimulate the quest for career growth.
Established in 1955, ARMA International is a not-for-profit professional association who provides governing information as a strategic asset. The ARMA 2013 Expo introduces emerging technologies and services for primary industries such as government, financial services, legal, healthcare and consulting. There are expected to be over 3,000 attendees and organizations in attendance for this year's conference. The Expo is filled with the latest products and services from top suppliers in the records and information management professions, all gathered in one location.
Office Gemini will be one of many exhibitors who are known as technology leaders in the industry of document management to participate in this year's conference. There will be educational information focused on today's most pressing topics, the newest products and services, and unparalleled networking opportunities around every turn. Office Gemini will demonstrate Dokmee, one of the elite document management software's worldwide. Along with Diamond Vision, a leader in image and data capture and is a top notch solution for streamlining the conversion from paper to searchable electronic files.
"Come visit Office Gemini at Booth # 242 to meet and speak with our executives, and how our products can help solve your document management needs."- Cesar Vega
About Office Gemini
Office Gemini is an international software manufacturer focused in the document management and document scanning industry. Office Gemini distributes its software products through a vast worldwide network of value-added resellers (VARs). From great software products and implementation assistance to strategic document management and scanning consulting services, Office Gemini is able to provide a wide range of services to End Users and VARs equally. Office Gemini's sales and support specialists are not only experts on internal software products, but are also very knowledgeable about the industry as a whole and can help with complementing software and hardware products. The two flagship products, Dokmee and Diamond Vision, are used by thousands of customers in more than 30 countries and are available in several different languages. For more information on Office Gemini, please visit http://www.officegemini.com/, or for Dokmee product information visit http://www.dokmee.net. For commentary and industry interaction, please visit http://www.dokmee.net/english/blog/, https://twitter.com/officegemini, https://www.facebook.com/OfficeGemini.
NOTE TO EDITORS: Diamond Vision® is a registered trademark of Office Gemini in the United States and Dokmee® is a registered trademark of Office Gemini in the United States and/or other countries. © 2013 All rights reserved.