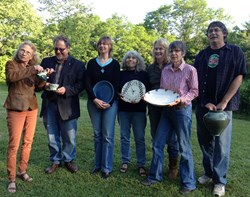 Each and every piece of work that leaves my studio is truely unique. I take immense joy in creating "beautiful" works and ultimately hope these pieces find their way into homes that will appreciate & love them.
Alfred, NY (PRWEB) October 11, 2013
Alfred University has been a center for excellence in the study of ceramic technology, design and art since the creation of the New York State College of ceramics in 1900. It should be no surprise that Allegany Artisans, a community of artists that has emerged in Alfred and the surrounding area, is rich in works of clay.
Many small workshops do not keep regular retail business hours. Artists who sell at galleries, festivals or through other channels still often host studio sales. The occasion of the Allegany Artisans on the weekend following Columbus Day gives artists of many media an opportunity to join together for a coordinated promotion towards a much larger audience than they might be able to reach as individuals.
Fine arts, jewelry, blacksmithing, fiber arts, wood working, even taxidermy are represented among the fifty studios exhibiting in 2013. Now in its twenty sixth year, the Studio Tour draws hundreds of visitors and art-shoppers to many of the studios.
Marsha VanVlack , who makes one-of-a-kind handmade stoneware tiles in Whitesville, was drawn to the hills on the New York - Pennsylvania border to relocate her family from Florida in the 1980s in part because of the local community of artists. Her work includes painting of area landscapes using glazes on single tiles and large mosaics.
Kay Brooks, in Belmont, makes hand-thrown, high-fired, functional pottery including dinnerware sets and much more in a variety of brilliant colors.
Mark Herol Corwine of Andover describes making pots, "allows for many of my interests to become tangible. The work is one of a kind, although classical proportions and forms are evident throughout. Most of my work is assembled from thrown and hand built red earthenware, however I will use any method that leads to my desired outcome."
Len Curran's jewelry collection, in Alfred, is comprised of one-of-a-kind pieces: earrings, bracelets, necklaces. She uses various types of glass, metal, wood, fiber and recycled materials. Each design is a creative combination of textures, bright colors and forms.
"Gods Mud Pottery" by Wellsville's Marshall Green makes bowls, cups, sculpture and more. "Each and every piece of work that leaves my studio is truly unique. I take immense joy in creating "beautiful" works and ultimately hope these pieces find their way into homes that will appreciate & love them."
"Hillbottom Pottery" by Bruce Greene is on Main Street in Alfred Station. He makes functional, wheel thrown stoneware for the table. Lamps, lanterns and flower arrangers a specialty.
Elaine Hardman point's out the practical nature of her food-safe pottery and microwave to table to dishwasher serving vessels. In addition she makes colorful earrings with pure niobium wires, hammered copper bracelets and silly sculpture at her studio "StoneFlowerPottery" is in Wellsville.
In addition to her paintings Hanna Juekoff makes ceramic jewelry, and wall pieces. In Wellsville Hanna is exhibiting a new line of mixed media and upcycled jewelry. Ceramic clocks and mirrors will be on sale as well.
Richard Lang is one of the most well known Alfred ceramic artists who can claim to have been born locally, completed all of his education in Allegany County and who still runs a full time art pottery studio locally. He makes both functional and artistic ware.
Eugenia Frith Meltzer in Alfred enjoys the challenge of the teapot. "All my teapots, whether very large figurative ones in stoneware, or very tiny whimsical pieces in porcelain, reflect my quirky sense of humor."
Peter Midgley in Wellsville crafts beautiful functional ceramic pieces and a variety of unique sculptural vessels. The work is in stoneware, porcelain and Raku. Peter will demonstrate the Raku firing process, weather permitting.
In Houghton, Nancy Petrillo's "A Stone's Throw Pottery" has designs inspired by nature, captured in porcelain. All are hand-decorated in a variety of methods and glazed in jewel-like colors. Berry bowls, espresso cups, yarn bowls and more for your everyday use or special occasions.
Three sisters will be exhibiting in historic Angelica. "Creekbed Pottery" is the studio name for Linda Ross. Functional & fun Linda's work is always changing. Terri Ross goes by "Mud Puddle Pottery" Her 'happy pottery' glazes range from deep down earthy browns to rich Jamaican blue ocean. Staci Cury's "Firefly Pottery" makes functional pottery inspired by the natural world. Staci aims to uplift the spirit through pottery that illuminates the simple, organic beauty of nature.
Kathy Stedina's Andover studio, "Serendipities" offers hand-built ceramic serving pieces and vessels, pressed with local hand gathered leaves. She also makes hand quilted wall art, pillows, bags, pin cushions and small blankets. Repurposed vintage textiles and trims, hand painted or dyed fabrics with contemporary materials.
Karen Tufty-Wisniewski digs her own clay from the Alfred Station shale pit, which was first mined back in the 1800s by Alfred's Celadon Company. Karen uses this durable clay at her workshop in Andover to make bread pans, lasagna dishes and pizza pans at Tufty Ceramics.
Allegany Artisans is a cooperative organization for the promotion of professional quality local arts and crafts in Allegany County in rural western New York State. A color brochure, that maps the trail to the various studios and workshops, is available at many local businesses. Studios are open to the public from 10 to 5 on both days of the event , October 19 and 20. For more information call 1-800-488-6347 or visit AlleganyArtisans.com.