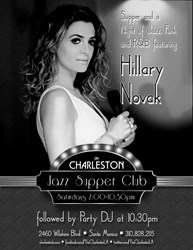 Santa Monica, CA (PRWEB) October 10, 2013
The Charleston, Santa Monica's premier 1920's style gastropub, is bringing back "dinner and a show" with the new Saturday night Jazz Supper Club, the first introduction to an all new fall lineup. The first Jazz Supper Club takes place this Saturday, October 12, 2013 featuring the jazz, funk and R&B vocal stylings of new house performer Hillary Novak.
Hillary Novak is a singer/songwriter who draws crowds all around Los Angeles. When taking the stage with her sultry voice, she injects her own amalgam of blues, R&B and funk into timeless pop standards. The result is entrancing. Now, every Saturday, join Hillary for Supper between 7 and 10 p.m. followed by Sultry Saturday featuring some of the most popular DJ's on the Westside.
And thanks to The Charleston's new partnership with Uber, everyone's private driver, the deal gets even sweeter. First time riders will receive a complimentary ride to or from The Charleston up to $20, so no need to worry about over indulging.
Dinner reservations are recommended via Opentable at http://www.charlestonla.com or by calling (310) 828-2115.
The Charleston is located at:
2460 Wilshire Blvd.
Santa Monica, CA 90403
For reservations: (310) 828-2115
To view the menu and for a schedule of events, visit http://charlestonla.com/.
About The Charleston:
After opening in March 2012, The Charleston has quickly become the Westside's premier spot for live Jazz and "dinner and a show" atmosphere. In addition to their specialty cocktails, the Charleston serves up an unexpectedly diverse and delicious array of American comfort food with an international twist.
Media Contact: Kelley Coughlan, Melrose PR, kelley(at)melrosepr(dot)com, (310) 260-7901, http://www.melrosepr.com