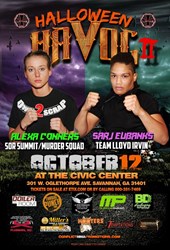 I'm really pumped to be making my debut and representing the ladies of Team Lloyd Irvin
Temple Hills, MD (PRWEB) October 10, 2013
Team Lloyd Irvin Martial Arts Academy in PG County Maryland has long been known for its stellar, world-class jiu jitsu, but the Academy hasn't been praised for its MMA since Brandon Vera's top-10 run in the UFC years ago. However, head instructor, Lloyd Irvin, has been slowly, but surely rebuilding the MMA program at Team Lloyd Irvin Headquarters in Camp Springs, MD.
Team Lloyd Irvin Martial Arts Academy currently has several fighters in the UFC, including Mike "the Hulk" Easton, Dominic Cruz, Phil Davis, and more. Now, there's a new stable of fighters up and coming to join the ranks of these professionals. Team Lloyd Irvin Martial Arts has several pro and amateur MMA bouts lined up for the coming months.
Representing the females Team Lloyd Irvin is Sijara Eubanks, 28, originally from Springfield, MA and now fighting out of Camp Springs, MD under head coach Master Lloyd Irvin. Sijara will be fighting Alexa Conners, of Sor Summit/Murder Squad, at the Conflict MMA Halloween Havoc Event October 12th. Conners is 2-0 (amateur) and is a striking specialist who has been training for just more than 2 years. Eubanks is a grappler who has been training Jiu Jitsu for 4 years and is making her debut. It's a classic grappler vs. striker match up and should be an exciting fight.
"I'm really pumped to be making my debut and representing the ladies of Team Lloyd Irvin. I've been training really hard and this is the first step in my MMA career," says Eubanks.
For more information on Team Lloyd Irvin Martial Arts Academy, please call 301-449-KICK, lines are open 24/7, or visit http://www.lloydirvinlive.com.