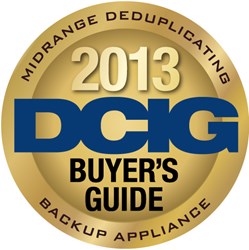 "As we know, deduplication, more than any other technology has helped to transform the backup market," added Wendt. "Target deduplicating PBBAs are generally the least disruptive to introduce into an existing backup environment."
Austin, Texas (PRWEB) October 10, 2013
Information managed by enterprise data centers expected to increase 50 times from 2011 to 2015 with the amount of data doubling every two years. Data volumes reached 2.7 zettabytes in 2012, or roughly the equivalent of stacking 11.25 billion iPhones one on top of each other for 532,670 miles.
The data explosion picture, visually, graphically and reality-based, is entering limits hard to imagine. When you factor in managing and backing up a fraction of the volumes of information that are being created, it's no surprise that many IT managers have turned to viable and cost-effective Purpose Built Backup Appliances (PBBAs) to control the explosion.
As noted in the most recently published DCIG 2013 Midrange Deduplicating Backup Appliances under $100,000 and $50,000 respectively, what makes PBBAs even more attractive is the inclusion of mainstream deduplication technology. Deduplication usage continues to gain prominence for its ability to reduce data footprints and allow end users to put more data on disk, making the use of disk for data protection more economical, and in many cases accelerates recovery times.
"It should come as no surprise that end users are struggling to manage the ever-growing volumes of data and need as many ways that are economically feasible to handle managing, protecting and backing up data," said Jerome Wendt, president and lead analyst, DCIG, LLC. "That is why we are not surprised that PBBAs are gaining in adoption. Any end user looking for a smarter way to address the problem of runaway storage volumes, is looking at backup appliances, especially those that feature deduplication. In our latest Buyer's Guide, we've expanded on earlier editions to include a broader universe of midrange deduplicating backup appliance buyer's to help end users identify what they need to control and manage their backup data growth needs."
For the newest Midrange Deduplicating Backup Appliance Buyer's Guide, DCIG, LLC evaluated more than 45 offerings from ten companies. After an initial questionnaire of more than 85 questions was completed, participating companies' capabilities were assessed from the questionnaire and from information available in the public domain. Solutions were then evaluated for more than 100 characteristics, and weighted after conversations with end-users. After scores were compiled, solutions were assessed and ranked either "Best-in-Class," "Recommended," "Excellent," "Good," and "Basic" across functionality and capability relative to the overall market landscape.
The intent for this Buyer's Guide, as with all DCIG Buyer's Guides, is to provide an "at-a-glance" comparison from which end users can select the most appropriate solution for their existing needs. This Buyer's Guide also provides perspective on how solutions from less well known storage providers compare against established and better known brands.
The DCIG 2013 Midrange Deduplicating Backup Appliance Buyer's Guide Top 10 solutions include (in alphabetical order): ExaGrid Systems EX10000E; NEC HYDRAstor HS8-4006R-720; HS8-3020R; HS8-3010R; HS8-4002S-192; HS8-4002S-96; HS8-3004S-24-48; HS8-3004R-24-48; Quantum DXi8500 Enterprise; and DX6802.
NEC HYDRAstor deduplicating backup appliances captured four of the top five spots in the Midrange Deduplicating Backup Appliance Buyer's Guide with its HS8-4006R model earning the DCIG "Best-in-Class" designation. Products that earned "Best-in-Class" and "Recommended" rankings generally shared the following features in common:

Give organizations two options to encrypt data
Have starting list prices of over $250,000
Scale to at least 100TBs in raw capacity with scaling to over 700TBs
Scale to support dozens of concurrent backup streams with no performance degradation
Scale to support hundreds of GBs for cache
The DCIG 2013 Midrange Deduplicating Backup Appliance Buyer's Guide achieves the following objectives by:
Providing an objective, third party evaluation of deduplicating backup appliances that evaluates and scores their features from an end user's perspective.
Scoring and ranking the features of each deduplicating backup appliance based upon the criteria that matter most to end users and then presents these results in an easy to understand table that displays the products' scores and rankings so they can quickly ascertain which deduplicating backup appliance solution is the most appropriate for their needs.
Providing a standardized data sheet for each of the 47 deduplicating backup appliance solutions from ten different deduplicating backup appliance providers so users may do quick comparisons of the features that are or are not supported with each product.
Giving any organization a solid foundation for getting competitive bids from different deduplicating backup appliance providers that are based on "apples-to-apples" comparisons.
"As we know, deduplication, more than any other technology has helped to transform the backup market," added Wendt. "Target deduplicating PBBAs are generally the least disruptive to introduce into an existing backup environment. They are also important for any organization that opts to implement private cloud storage arrays to host many or all of their production applications. When deployed into these environments, they can offset any planned or unplanned downtime or disruption in service and alleviate the potential for catastrophic consequences that could impact the entire business."
Disclosure and Methodology
DCIG identified ten companies that provide midrange deduplication backup appliances, regardless of cost. Each solution had to meet the following criteria:
The solution's primary purpose had to be for the deduplication of backup data
The primary intent is to do target-based deduplication of backup data.
It had to offer a network attached storage (NAS) interface and support the CIFS or NFS protocols.
In every case the participating vendor had the opportunity to review and respond to the survey and the information regarding their product displayed on the data sheets included in this Buyer's Guide. Deduplicating backup appliance solutions were then put into the respective Buyer's Guides based upon their starting price point.
There were some cases where deduplicating backup appliance providers elected not to respond to DCIG's inquiries or requests. While those products were still covered in this Buyer's Guide, the information as presented in this Guide may be incomplete or not represent all of the product's capabilities. In cases where no responses were received, a notation is included on the bottom of that product's data sheet indicating that all information displayed is strictly drawn from publicly available sources.
DCIG also spoke to various end-users to get a sense of how they would weight their needs in these various areas. DCIG then evaluated the vendors' capabilities by applying weighting indicated from our conversations with these end-users. No vendors, whether clients or not, were afforded preferential treatment in the Buyer's Guide. All research was based upon information provided directly by vendors, research and analysis by DCIG and other publicly available information.
It is worth noting that each Buyer's Guide is not intended to be a substitute for internal testing. DCIG encourages any organization that is considering the purchase of any solution included in a Buyer's Guide to do its own in-house testing.
Availability
The DCIG 2013 Midrange Deduplicating Backup Appliance Buyer's Guides is available immediately and may be downloaded for no charge with registration at the following http://dcigbuyersguides.com/.
Resources:
DCIG Blog: http://www.dcig.com
About DCIG
DCIG, LLC, is an analyst firm with headquarters in Texas, focusing on archive, backup, retrieval and storage systems as well as information management and data security. DCIG's analysts blend analysis, journalism, advertising and marketing into compelling blog entries at http://www.dcig.com as well as journalistic writings with leading trade and industry publications. DCIG's goal is to provide evaluations and interview content on sponsoring and non-sponsoring companies to consumers, public relations firms, business analysts and other companies. DCIG distributes industry, company and product analysis by way of viral marketing and community building using the burgeoning BLOG infrastructures created worldwide.