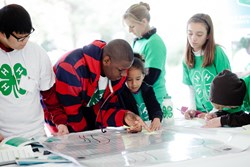 "4-H National Youth Science Day brings science exploration to life for young people in fun and interactive ways," said Donald T. Floyd, Jr., National 4-H Council president and CEO.
Chevy Chase, MD (PRWEB) October 10, 2013
Millions of young people all across the country became geospatial scientists on October 9th during the sixth annual 4-H National Youth Science Day.
The 2013 National Science Experiment, 4-H Maps & Apps introduced youth to the importance of geographic information systems (GIS) and global positioning systems (GPS) as they used an important GIS technique called "layering" to map and design their dream recreational park.
Young people in hundreds of communities across the U.S. participated in local 4-H NYSD events at elementary and middle schools, colleges and universities, youth, community and 4-H centers.
Visuals include youth from Maryland, Virginia, New Jersey and South America (Colombia and Ecuador) completing the 2013 National Science Experiment at the National 4-H Youth Conference Center in Chevy Chase, MD. 4-H is the largest youth development organization operating in 50 countries around the world.
Click here to view 4-H NYSD Media.
To combat a national shortage of young people pursuing science college majors and occupations, and to enhance the nation's contribution to the sciences, 4-H NYSD demonstrates that science, technology, engineering, and math (STEM) are fun and attainable options for college degrees and future careers. Currently, more than five million young people across the nation participate in 4-H year-long science programming.
New this year is an online game and an app called 4-H Maps & Apps available via the iTunes Apps store. To join the conversation on 4-H NYSD, follow National 4-H Council (@4H) on Twitter or find us on Facebook at facebook.com/4-H and use the hashtag #4HNYSD.
Learn more at 4-H.org/NYSD.