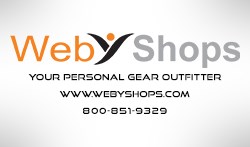 We are all very excited about the new move.
Arlington, TX (PRWEB) October 11, 2013
Webyshops.com has relocated. They are proud of their new facility located at 805 Avenue H east, Suite 301, Arlington, TX 76011. This move literally doubled the space of the previous facility allowing Webyshops to better serve their Internet and local customers.
Since opening the website in 2010, Webyshops.com has experienced explosive growth. This is the second expansion move in its four years of existence. The first move allowed for more space in the office and warehouse. This move has also allowed for expansion in the same areas, but also the addition of a full showroom.
The storefront offers a new firearm and ammo retail location that is not currently available in the Arlington, Texas area, and will eliminate the 20-30 minute drive to the closest outdoor retailer for its residents. Located at the intersection of Interstate 30 and Highway 360 between Ft. Worth and Dallas Texas, it is at a convenient location for most of the Dallas/Fort Worth Metroplex as well.
"We are all very excited about the new move. We have been growing each month, and now we can really see what we have achieved by moving into a larger space. The move took some time, and a lot of hard work, but the Webyshops team did a great job with the move just as we do every day with our customers by providing the outdoor gear connection we all love." - Jeb Doyle, customer service manager.
Specializing in outdoor gear used for activities such as hunting, fishing, hiking, shooting, running and more; Webyshops provides equipment needed by the hobbyist all the way to the professional. Webyshops is a licensed firearms dealer and authorized dealer of over 300 Brands including Nikon, Leupold, Slidefire, 5.11, EOTech, Bushnell, Smith & Wesson and Zeiss. With a continually growing selection of gear on the website and access to over 150,000 more items, Weby customers are certain to find what they need and want for any adventure.
If you are in the Arlington, Texas area, take a moment to visit our showroom and get to know us. See firsthand why Webyshops is your personal gear outfitter.