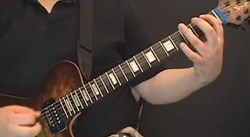 (PRWEB) October 10, 2013
GuitarControl.com announces the release of "How to Play the Guitar Riff from "Paradise City" by Guns N' Roses" the latest in their series of instructional YouTube videos.
The band Guns N' Roses was formed by lead singer Axl Rose and rhythm guitarist Izzy Stradlin in 1985, and the teething pains of getting a band organized soon brought in Slash as lead guitarist. "Paradise City" was the 6th cut on Guns N' Roses 1987 debut studio album Appetite for Destruction. The album reached reached number 1 on the Billboard 200 and the "Paradise City" single topped out at number 5 on the charts. A catchy melodic line paired with a driving rhythm has made "Paradise City" a hard rock anthem, even gaining a recurring reference on the "Beavis and Butt-head" series. For his part, Slash is on the record as stating that "Paradise City" is his favorite Guns N' Roses song.
"Paradise City" was written in stages. A collaborative effort by the band it was (according to Slash) conceived on the group's van while on tour in San Francisco. Slash and Rose rhymed out the guiding tag line of the lyric as they experimented with different lines. As the song came together, Slash is credited with creating the riff that is the identifying theme of the song and that is the focus of Silvio Gazquez' lesson.
A glance at the tablature notation (just hit the link) reveals that this is a relatively simple riff, based on the G pentatonic minor scale, played on the low E and A strings. It's power comes from its phrasing, something that Silvio demonstrates both at full speed and then slowly, so the student can more easily see the fingering. Simple, yes. But this is a versatile riff. Watch video of Guns N' Roses and you will see Slash incorporating the riff into a solo, high up on the fretboard.
An internationally acclaimed guitarist, Silvio Gazquez was a finalist in the 2008 Guitar Idol contest and the winner of the 2009 Petruccifever contest. Classically trained at the Universidad Nacional de La Plata in Argentina, he taught himself the ways of electric guitar, melding the classical with the modern. An active musician and highly sought-after instructor, Silvio is engaged in several projects that bridge the classical / rock divide, when he's not doing lessons for GuitarControl.com.
Guitar Control.com is a consortium of professional guitarists dedicated to providing the highest quality musical instruction. Producing both web-streamed lessons and comprehensive multi-DVD courses, Guitar Control offers instruction for every style of playing and for all musical genres. Guitar Control's YouTube channel (youtube.com/guitarcontrol) offers 414 (and counting) free video lessons.