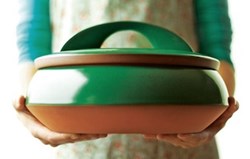 Congratulations on serving a beautiful meal
Hagerstown, MD (PRWEB) October 10, 2013
The days are growing shorter and the leaves are beginning to drift from their branches and fall into crunchy piles on the ground. With a chill in the air and a sigh of nostalgia for summer's balmy evenings, you set out to plan the perfect autumn dinner party. The haze of gold, orange and red outside your window inspires you to set a dinner table that will not be soon forgotten, and will linger in the minds of your guests into the cold months of winter.
Start the evening with hearty appetizers like warm dips and sliced bread and perhaps some fresh autumn apples sliced with sharp cheddar on a handmade wooden serving board by Thomas Work. The board is beautifully finished with a subtle decorative element, adding a rustic touch to your spread. Use a citrus yellow or rich copper colored glass bowl, handmade in California by Fire and Light for a burst of color reminiscent of the fiery shades gracing the trees outside.
For dinner, pass around a large ceramic serving bowl handmade by Holman Pottery in deep shades of green and brown, inspired by the natural tones of the earth as it moves towards the winter season. The delicate beauty of Gingko leaf napkin rings by Four Seasons Design Group sculpted directly from real leaves will have your guests pausing to more closely examine each intricate fold and crease before slipping their napkins out and smoothing them over their laps. Serving spoons and trivets cast from oak leaves and walnut shells will be a welcome addition to your table as well.
Don't forget dessert which you made yourself using your favorite nesting mixing bowls, handmade by potter Maggy Ames in shades of earthy green. You're happy because your bowls are easy to use and simple to store (since they fit neatly inside of each other), and your guests are pleased with your delicious handmade cakes and cookies.
Congratulations on serving a beautiful meal, beautifully accented with handmade in America serving pieces and tableware. While your guests will enjoy the memory of a night of excellent food and company, you also get to enjoy the continued use of your handmade pieces, all available at The Fine Arts Company.
While the chilly nights of autumn are seasonal, fine art is not. When you shop at The Fine Arts Company, you are purchasing top-quality made in America products that you will enjoy year round, and for years to come. Plan the perfect dinner party and remember, fine art never goes out of style.
About The Fine Arts Company
The Fine Arts Company offers a variety of top-quality original handmade items from American artists and designers. The offerings include a creative range of items including jewelry, fine art, glassware and pottery. The Fine Arts Company offers consumers the chance to own and treasure unique one-of-a-kind pieces of modern American culture. Visit http://www.thefineartscompany.com or follow on Facebook to learn about upcoming events and developments, and see the newest and best in handmade American arts.