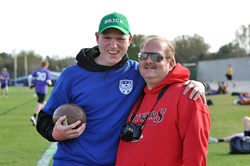 Starego realizes it isn't easy to fight the system. But he says when it comes to your child, you have to try.
San Diego, CA (PRWEB) October 10, 2013
Husted Kicking interviews Ray Starego, the father of autistic kicker Anthony Starego, on the decision by the New Jersey Interscholastic Athletic Association (NJIAA) to allow Anthony to play an unprecedented fifth season of high school football.
The interview with Ray Starego can be found at Michael Husted.com.
In the interview, Ray Starego says both he and Anthony are "ecstatic" about the decision to allow Anthony play a fifth season of high school football.
They are especially pleased as this decision follows an earlier decision by the NIJAA which ruled Anthony would not be allowed a fifth season.
BACKGROUND:
Midway through the 2012 football season, Brick Township, New Jersey "senior" Anthony Starego, finally was made a starting placekicker for the Dragons, Brick's varsity football team. But as the season came to a close, so did Anthony's eligibility to play for his high school team.
So in the Spring of 2013, Brick High School filed and supported an application with the NJSIAA (the state athletic association regulating play at the high school level) to secure a limited exception from its "four year" and "eight semester" rules in order to allow Anthony one further season of competitive play.
According to Ray Starego, not a single coach or team publicly opposed Brick's application; nor did any student playing for Brick or any other team.
In March of 2013, the NJSIAA's board unanimously denied Brick's request for a "one further season" waiver. The NJSIAA ruled that Anthony was too old to continue to play, would "displace" other players, would create an undue safety risk, and would give Brick an "unfair competitive advantage."
In July, New Jersey's Education Commissioner, Christopher Cerf, affirmed the NJSIAA's ruling. Anthony would not be allowed to play a fifth year of high school football.
But that was not to be the end of the Anthony's story. Ray Starego was not going to let it end there. So after many months of intense negotiations, the NJSIAA has reversed its decision.
Go here for the NJSIAA's official statement on the Anthony Starego ruling.
Starego says it's sad that many parents facing similar situations are not as fortunate as he was.
Starego realizes it isn't easy to fight the system. But he says when it comes to your child, you have to try.
"Continue to fight the fight," he says. "If it will help the development of your child leave no stone unturned. It's the only way meaningful change happens for your child and others."
For the full interview with Ray Starego go to Michael Husted.com.
ABOUT MICHAEL HUSTED:
Michael Husted is a retired 9 Year NFL Kicker.
Husted's consistency on field goals and power on kick offs won him the job as an undrafted rookie. Husted went on to have a successful rookie season where he was named to Football Digest's All Rookie team.
During his time with the Tampa Bay Bucs, Husted established several records including:
•All time leading scorer (502 pts.)
•Longest field goal (57 yards)
•Most 50+ field goals (10)
After his NFL career, Hustedl was involved in an online start up, iPlayers.net in 2005. This innovated site at the time took high school recruiting from "snail mail" to the internet. In 2007, the company was acquired by the Active Network in San Diego, CA. After working in the "corporate" world for a couple of years, Husted realized that one of his passions was helping athletes to leverage their sport for a college education.
Since that time, Husted founded the National Camp Series. This platform objectively measures kickers, punters and long snappers through statistics which takes out all subjectivity in the evaluation process.
Husted is also a kicking coach who provides kicking lessons to all levels of kicking specialists.