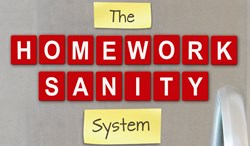 "What a child and young adult really need is to feel safe. This is what gives them the courage to take risks, learning from mistakes and ultimately enjoy the whole process of learning as it unfolds over time."
Malibu, CA (PRWEB) October 10, 2013
Homework Sanity has three services to help parents and students for the 2013-14 school year. Their SAT Sanity System is an email service to help students put the SAT into perspective. "Most students make the mistake of picking a College, or University based on their status over where is the best place for them to learn about what they really want to do in life?" explains Private Tutor and Author Roger Wilkerson.
Ask Roger is another tool where parents and students can ask him a specific problem. "The main advantage I have is that I've worked with children of all ages, with major learning challenges in various countries. I've also worked with adults who are trying to learn English. This allows me to bring a global perspective of what is a problem versus just something that will sort itself out over time. Most important it allows me to provide more than one solution to solving a problem."
The Homework Sanity System (Fastpencil ISBN 978-1-61-933483-0) can also be downloaded as a back-to-school gift until January 1, 2014.
This system helps parents to understand the value of partnering with their child over homework versus parenting them during the process. Roger explains, "This practical four-step process empowers any parent to partner, connect, correct and collect academic results almost instantly. What a child and young adult really need is to feel safe. This is what gives them the courage to take risks, learning from mistakes and ultimately enjoy the whole process of learning as it unfolds over time."
Visit http://www.homeworksanity.com and start reducing stress right now.