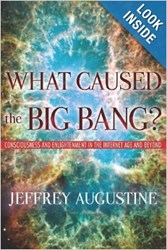 "What Caused the Big Bang? The answer is breathtaking!"
Los Angeles, CA (PRWEB) October 11, 2013
What caused the Big Bang?
In his new book, Jeffrey Augustine boldly answers this question. In doing so, he offers powerful new insights into the nature of Consciousness and Multiverse Cosmology.
"In the pages of "What Caused the Big Bang?, I introduce a striking new cosmology that transcends the models of Divine Creation and a spontaneous Big Bang that had no cause."
"My book is written for people who are spiritual but not religious, who respect science but are not atheists," Augustine noted. "If you have no use for the creation story in the Bible and likewise find the claim that the Big Bang just 'spontaneously happened' to be unconvincing, then you may indeed like what my book has to offer."
"I worked in the scientific arena, in high tech, for thirty years, so I respect science, but I reject the idea that to be 'scientific' means that one must also be an Atheist."
"I worked professionally with light, literally with photons, colors, plasma, lasers, and optics for decades while simultaneously working in very intense spiritual disciplines such as Buddhism, Advaita Vendata, and Freemasonry. I never experienced a sense of contradiction. Rather, I saw and vividly experienced an underlying logic and inexorable process at work that I describe in my book."
A central premise in Jeffrey Augustine's work is that Infinity is a monolithic Unity. It is One. Augustine's distinctive cosmology states that all universes are sub-infinite and are "sourced" by Infinity.
Once sourced, Infinity launches these sub-infinite universes into the Multiverse in a "high-energy faster than light transfer process" that Augustine calls "Disunification."
Augustine says of this process, "Disunification is the mechanism whereby Infinity sources and then disunifies universes. Disunification is how Infinity populates the sub-infinite Multiverse. All of these sub-infinite universes can have different laws, thus allowing Infinity to realize every possible history and outcome as it evolves itself."
"My book makes the case that Disunification explains E=MC², why energy and matter are convertible. Likewise, Disunification explains why Consciousness and Identity are convertible in our universe," Augustine said. "I introduce Disunification Cosmology in my book and discuss it on my cosmology blog.
"When you understand that Consciousness and Identity are convertible, your spiritual understanding explodes. You no longer need any form of religion, belief, doctrine, or even a conventional identity," Augustine stated. "My work can expand a person beyond their boundaries and into a new and higher level of Consciousness and spiritual understanding. This is why my subtitle of my book is 'Consciousness and Enlightenment in the Internet Age and Beyond.'"
About the Author: Jeffrey Augustine is a Master Mason and a Knight Templar. He is also a noted critic of the Church of Scientology. A scientific lighting expert by profession, Augustine has worked on lasers, medical devices, UV-C water treatment, and even lighted the prototype of a space vehicle. The author lives in Los Angeles with his wife Karen de la Carriere, an extraordinary woman who was once a very high ranking member of the Church of Scientology.