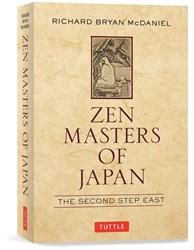 North Clarendon, VT (PRWEB) October 10, 2013
On November 5th, Tuttle Publishing will release "Zen Masters of Japan: The Second Step East," the subsequent book in a series that traces Zen's profoundly historic journey eastward from China and Japan, toward the United States. The book is written by Dr. Rick McDaniel, a renowned author and university professor based in Montreal. Following "Zen Masters of China," this book describes the lineage of some of Zen's most renowned teachers, the pioneers who set out to enlighten an island-nation through compassionate awareness.
Dr. Rick McDaniel describes himself as a Roman Catholic by birth and heritage and a Zen practitioner by nature and temperament. He studies at the Montreal Zen Center with teacher Albert Low. Dr. McDaniel taught at the University of New Brunswick and Saint Thomas University before working in International Development with the YMCA, where he was instrumental in creating the YMCA Peace Medallion. He is also the creator and driving force behind a five-part documentary series called '80/20: A Developing World' and coauthor of the textbook "A Two Way Approach to Understanding: Issues in Global Education."
Japanese Zen is unique in its merging with a variety of esoteric contemplative arts—the arts of poetry, tea ceremony, calligraphy, and archery. "Zen Masters of Japan" chronicles this journey, and shows how the new practices soon gained in popularity among all walks of life—from the lowly peasant, offering a hope of reincarnation and a better life; to the Samurai warrior, casual in his approach to death; to the ruling classes who enjoyed a scholarly challenge to the intelligentsia. A collection of Zen stories, meditations, and wisdom, "Zen Masters of Japan" explores the illusive state of 'No Mind' developed in Japan that is so fundamental to modern Zen practice.
About Tuttle Publishing
Established in 1948 by Charles Egbert Tuttle Jr. in Rutland, Vermont and Tokyo, Japan, Tuttle Publishing is the premier publisher of English language books on Asian culture. Today, Tuttle maintains an active offering of books on a wide range of topics, including Asian culture, Asian literature, Asian architecture, Eastern spirituality, gardening, cooking, martial arts, crafts, travel, health and wellness, and fine art for a worldwide audience.