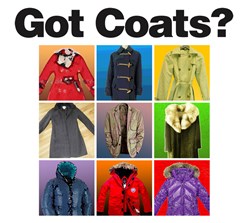 "GráficaGroup has a heart for the community in which we work and serve."
Morristown, NJ (PRWEB) October 10, 2013
For the second year in a row, GráficaGroup is taking part in the Market Street Mission's annual coat drive. As winter approaches, GráficaGroup hopes to aid the local mission in collecting enough gently used coats to provide to those in need.
Last year, after Hurricane Sandy left many without power or heat, GráficaGroup managed to collect over 70 new and gently used coats with generous assistance from other tenants in their Morristown office building, 1776 On The Green. Donations included raincoats, faux fur coats, winter coats, and many items that provided protection from the cold weather. The coats collected were then distributed along with many others to over 250 individuals at the Market Street Mission's annual coat giveaway gathering on the Morristown "Green".
"GráficaGroup has a heart for the community in which we work and serve. We're excited to partner with Market Street Mission's coat drive once again as it reaches so many people in these difficult times," said Carol Payer-Cooper, Human Resources Manager at GráficaGroup.
Since 1889, the Market Street Mission has provided food, shelter, and clothing to those in need, and has become a prominent volunteer in the Morristown area in such efforts. If you live in the Morristown area and wish to donate, please bring your donations to the Market Street Mission at 9 Market Street in Morristown, NJ before October 24th.
For more information on the Market Street Mission, visit http://www.marketstreet.org.
About GráficaGroup
Celebrating 27 years in business, GráficaGroup is an award-winning, results-driven, multichannel agency that enables businesses to establish and nurture strong, meaningful relationships with customers across all categories. They include Fortune 500 and mid-sized B2B and B2C companies such as AT&T, Avaya, Century 21 Real Estate LLC, Horizon Blue Cross Blue Shield of New Jersey, Jackson Hewitt Tax Service, KPMG LLP, Morgan Stanley, PSE&G, Summit Medical Group, Trane, Weichert Realtors and Wells Fargo Home Mortgage - as well as public sector and not-for-profit organizations. For more information, visit http://www.grafica.com.