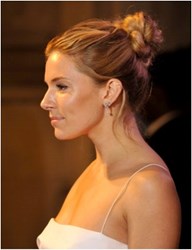 New York, NY (PRWEB) October 12, 2013
British actresses Sienna Miller and Emilia Fox attended the Luminous – BFI Gala Dinner & Auction yesterday night in London, United Kingdom. Celebrating British film and British film talent, the Gala evening comes in aid of the BFI, raising vital funds to secure the future of the BFI National Archive.
Sienna arrived at the Gala looking radiant in a white strapless dress complimented by earrings and a bracelet from De Beers Diamond Jewellers.
Sienna chose to wear pieces from De Beers' Adonis Rose collection:

Emilia arrived at the Gala looking radiant in a silk midnight blue gown complimented by earrings and a pendant from De Beers Diamond Jewellers.
Emilia chose to wear pieces from De Beers' Aura collection:
Aura Pear Sleepers – featuring 70 diamonds set in white gold, weighting a total of 1.74 carats. £14,400
Aura Pear Pendant – featuring 22 diamonds set in white gold, weighting a total of 1.21 carats. £13,900
THE DE BEERS DIFFERENCE
De Beers, the Jeweller of Light, creates timeless treasures that reveal and celebrate natural beauty. As the definitive destination for diamond jewellery, we have a quest for inner brilliance, bringing lightness, femininity and delicacy to our sublime diamond jewellery.
Drawing on diamond mastery since 1888, De Beers go well beyond the '4C's' of cut, clarity, colour and carat weight to capture unmatched Fire, Life, and Brilliance, providing the most beautiful diamonds in the world set in magnificent designs. The creation of timelessly elegant diamond jewellery – from selecting the world's finest diamonds to impeccable craftsmanship and sophisticated designs – is the De Beers difference.
De Beers is proud to be the only brand to demonstrate the beauty of its diamonds, using the De Beers Iris. This proprietary technology, found in each De Beers store provides clients with an objective way to see the beauty of their diamond through the eyes of an expert.
THE DE BEERS GUARANTEE
Each piece of De Beers jewellery is certified with a De Beers passport and each polished diamond above 0.20 carats is microscopically branded with the De Beers Marque. The De Beers Passport documents the specifications of your diamond jewellery and is your guarantee that every single De Beers diamond is natural, untreated, conflict-free and responsibly sourced and crafted. The De Beers Marque, using technology patented by the De Beers Group, is invisible to the naked eye and ensures that each diamond is individually catalogued in the De Beers diamond registry, confirming its identity as a De Beers official diamond, to provide clients with a total peace of mind.
DE BEERS DIAMOND JEWELLERS
De Beers Diamond Jewellers was established in 2001 as an independently managed and operated company by LVMH Moët Hennessy Louis Vuitton, the world's leading luxury products group, and De Beers SA, the world's premier diamond mining and marketing company.