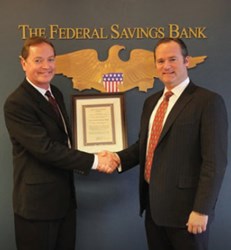 Operation Finally Home builds homes for our wounded heroes and we give them away mortgage free.
Chicago, IL (PRWEB) October 10, 2013
When veterans return home, injuries and war experiences can leave individuals with many extra costs from physical and emotional disabilities to unemployment and homelessness. These extreme conditions that some veterans find upon their return has spurred several organizations to step up to provide housing for veterans. The Federal Savings Bank proudly echoes this news that non-profits are helping veterans.
According to KVUE on October 7th, an ABC Texas affiliate, the non-profit organization Operation Finally Home has helped Army Specialist Cody Nusbaum get a new home. Operation Finally Home is a group that provides housing to wounded and disabled veterans, as well as widows of fallen soldiers. The homes are custom-built, allowing for disabled veterans to get around easier and lifting the burden of cost for affordable housing accessibility.
Operation Finally Home has already built more than 40 homes for veterans in Texas, according to CBS. Overall, the group has finished more than 80 homes across the country. Volunteers surprised Nusbaum at the construction site of his future home in New Braunfels, Texas, where the veteran will be able to continue recovering from his injuries with a place to call home.
"Operation Finally Home builds homes for our wounded heroes and we give them away mortgage free," Dan Wallrath from Operation Finally Home told KVUE.
Nusbaum was wounded as a result of gunshots by a Taliban insurgent while serving tour of duty in Afghanistan in 2011. His wounds were severe, and he was only able to walk again after 75 surgeries. He has been receiving treatment in San Antonio since his return from Afghanistan.
In conjunction with other volunteers, Operation Finally Home teamed up with The Structural Buildings Components Association, the National Association of Home Builders, Building Systems Council and members of the New Braunfels Home Builders Association to construct a new home for Nusbaum. With the home's foundation and structure already built, the project will be completed by volunteers sometime in February.
Contact The Federal Savings Bank, a veteran owned bank, to find out more about affordable housing options for veterans.