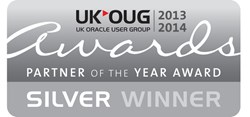 Panaya thoroughly deserved their award win which represents their outstanding success within the ISV category.
London (PRWEB UK) 11 October 2013
Leading ERP maintenance automation provider Panaya has been named as the Silver Winner in the ISV (Independent Software Vendor) category at this year's UKOUG Partner of the Year Awards. The prizes were awarded to UKOUG Partners that provide innovative technology, solutions and services that offer real quantifiable value to Oracle users.
The award ceremony was held at London's Altitude 360 venue after more than 2,900 votes from over 600 members throughout the UK were cast. On 3 October, 2013, Panaya was named as the Silver winner of the ISV category in recognition of the significant savings in time, cost, and risk its SaaS solution offers Oracle Users.
Yossi Cohen, CEO and Founder of Panaya said, "We are delighted to be recognised as one of the leading partners within the Oracle User Group community. Winning the Silver Partner Award and knowing that more than 2,900 votes were cast from Oracle customers is a real testament to the technological and business value that Panaya has given the Oracle community over the past 12 months."
David Warburton-Broadhurst, Chairman of the UK OUG commented: "Winning a Partner of the Year Award is the highest accolade any partner can receive. The awards celebrate the best of the community - the sheer number of high quality entries received this year is a testament to the success of the Oracle partner community. Panaya thoroughly deserved their award win which represents their outstanding success within the ISV category."
#####
About Panaya
Panaya is a software as a service, designed to cut the risk and cost of Oracle Applications' maintenance and innovation projects. When it comes to ERP upgrades, rollouts or enhancements, you can now work smarter – faster, cheaper and with less risk – and become more responsive to the needs of the business. The Panaya platform for precision change enables IT and business to dedicate more resources to innovation and less to thankless, never-ending manual work. It combines change impact analysis, business user testing tools, data mining of test patterns and deep domain knowledge of ERP and CRM.
Panaya serves more than 1,000 customers in over 60 countries worldwide through its offices in the USA, Germany, and Japan.
About UK Oracle User Group
UK Oracle User Group (UKOUG) is an independent, not for profit membership organisation created to support Oracle stakeholders. Established 30 years ago, UKOUG now has over 8,500 member contacts. It leverages on the collective strength of the combined Oracle community, acting as a single independent voice to influence the future design, functionality and technology that is key to all Oracle users.
UKOUG provides the Oracle community with over 80 events a year across the UK and Ireland to inform and educate its members about Oracle products and new developments. All of its events enable members to network, share knowledge, participate, feedback to Oracle and meet senior Oracle representatives and other industry leaders. UKOUG Conferences are largest collection of independent Oracle events in EMEA.