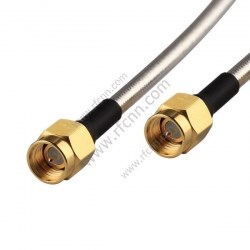 (PRWEB) October 12, 2013
Today, RFcnn.com, the well-known manufacturer and retailer of cable assemblies, announces its promotion of high quality SMA cable assemblies. All new cable assemblies are provided a special offer, up to 35% off.
According to a senior spokesman of the company, SMA cable assemblies include hundreds of standard and custom products that use flexible, formable or semirigid cable. The new collection of SMA cable assemblies is available with available with more than 10 unique cables and connector combinations. Several configurations are offered at the online shop: centimeters or inches, right angle or straight connectors, standard or custom length, non-RoHS or RoHS and so forth.
"We are excited to launch the promotion of high quality SMA cable assemblies. We aim to thank our customers worldwide by offering high quality products at affordable prices. Any order over $3000 can get a special offer, up to 35% off. What's more, discount coupons are provided if a customer's order is above $6000," says the CEO.
RFcnn.com is a popular brand in the industry, offering an excellent array of cable assembly made from the finest cable and manufactured to the highest standards, like SMA cable assemblies, SMA RF connectors, SMB RF connectors and Mini Balun IDC connectors. The company's production line works 24 hours every single day, with a completely automated production process to ensure the quality of every product.
About RFcnn.com
RFcnn.com is an online company of Zhenjiang Fourstar Electronics Co. LTD, which is based in China. It aims to provide customers high quality RF connectors at the lowest possible prices. Customers can try the company's products through sample orders with a long-term contract. Most the customers will come back soon after their first deals.
More details at:
http://www.rfcnn.com/SMA-Male-to-Male-18GHz-RG402-Coaxial-Cable-Jumper-430.html