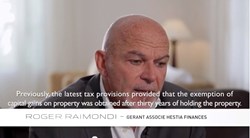 At the end of the day, you want to know what's going on real estate wise, when you are purchasing a property.
Nice, France (PRWEB UK) 14 October 2013
Nice Properties Real Estate Group has created Immo News a real estate video series focused on the local real estate market of the French Riviera.
Working in collaboration with Media 06, a local video production company, the series was created to give a quick recap of the current real estate market from different perspectives from those active in all areas in the industry. From notaries to bankers, architects to mortgage lenders, and real estate agents themselves, Nice Properties hopes to further extend their web based platform as a go-to point for useful real estate information for those seeking to either invest in second vacation homes, sell a home or apartment or develop a new build property.
In addition to this, there is the hope of creating a more dynamic forum within the industry to discuss the important issues that affect real estate transactions, such as new tax laws, government initiatives, finance options, etc.
Nice Properties Commercial Director, Michael Fusaro explains, "With the current economic climate the market has indeed slowed down, however, the French Riviera is a special market in that it is a world class destination where we find a constant rate of transactions.
"That being said, the market is highly competitive, and we wanted to take a more organic approach to bringing professionals in different areas of the industry to share their perspectives and give potential clients a real source of current information. At the end of the day, you want to know what's going on real estate wise, when you are purchasing a property."
The video series, originally filmed in French, will offer English and Russian subtitles for foreign viewers and can be found on the Nice Properties website blog section as well as on all related social media outlets.
About Nice Properties Real Estate Group
Nice Properties is the French Riviera's leading real estate group specializing in the sale of luxury villas, vacation homes, apartments, commercial real estate and new build programs. They have the most effective professional multi-lingual network of real estate professionals with six offices along the Cote d'Azur from Cannes to Beaulieau and 2 specialized departments for New Build and Commercial real estate, providing an efficient and seamless platform for the best real estate opportunities and investments on the French Riviera. To find out more information about the best properties for sale or for seasonal rental on the French Riviera, please visit our website: http://www.nice-properties.com.