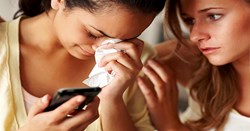 "This Movement against Bullying needs to gain more momentum and that only happens with sharing knowledge and experience and truly empowering children to stand up for their safety online and everywhere"
London, UK (PRWEB) October 11, 2013
Peter K Smith, an Emeritus Professor at the Unit for School and Family Studies in Goldsmiths College, University of London, U.K, speaks to NoBullying.com today about School Bullying and the role of schools in fighting Bullying.
Smith comments on the fact that bullying has been a big issue for "some 20 years, certainly in the UK and a number of other European countries. Once awareness was raised about it, it has stayed in the limelight."
He also adds, "This century has seen a rise in cyber bullying, or bullying using mobile phones and the internet. This has been compared with traditional bullying – physical hitting, damaging belongings, verbal taunts, social exclusion, rumour spreading. (The terms online and offline bullying are also used)."
Smith lists possible long term consequences of being bullied such as "loss of self-esteem, depression, lack of trust in relationships, and adversely affect health and well-being, and academic achievement. Suicidal ideation is higher if bullying persists, and the worst outcome is suicide. These extreme outcomes are also well documented in the media."
In the interview, Peter K Smith also lists the ways a parent or a teacher can help a bullying victim cope and recover from the traumatic effects of bullying. He lists obvious signs of being bullied such as "Changes in behaviour (if no other obvious cause) – such as mood shifts, feeling depressed, not wanting to talk about friends or school; drop in school work or achievement; unexplained physical injuries or damage to belongings; any signs of self-harm should be taken very seriously."
Macartan Mulligan, Co-Founder of NoBullying.com, said, "We are thrilled about the vast array of experts in the field willing to share their knowledge and experience with us to combat bullying." He added "This Movement against Bullying needs to gain more momentum and that only happens with sharing knowledge and experience and truly empowering children to stand up for their safety online and everywhere"
Mulligan encourages experts from all over the world to join the Movement against Bullying by contributing to NoBullying.com via media(at)nobullying(dot)com.
He added that parents and teachers should make a point to educate the younger generations about the sad outcome of bullying online and off line.
NoBullying.com features many pages dedicated to parents, teens, teachers, health professionals as well as posts related to cyber safety and the latest news about law making concerning curbing Bullying worldwide as well as inspirational Bullying Poems and Bullying Quotes.
The website makes a habit of updating its bullying statistics and cyber bullying statistics regularly because it is essential to understand how widespread the bullying epidemic is.
He also added that anyone suffering from bullying in any form or way can always reach out to the team of NoBullying and they will be given advice on how to stand up to bullying or protect themselves online.
The founders of the website hope that viewers can truly learn about bullying definition as well as school bullying and workplace bullying and put a serious effort to making it stop by education and caution and not by violence. NoBullying.com is not a mere website but an actual movement against bullying.