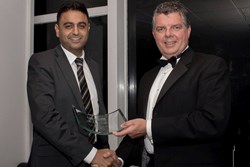 (PRWEB UK) 12 October 2013
dsp has been named winner of the Database Partner of the Year at the Sixth Annual UK Oracle User Group Partner of the Year Awards. The awards provide recognition to UKOUG Partners for the contribution that they make by offering their services to Oracle users.
The awards were held at Altitude 360 on 3 October, 2013 and received over 2,900 votes from more than 600 members throughout the UK. dsp was named as a winner of the Database Partner of the Year due to its commercial and technology success.
David Warburton-Broadhurst, Chairman of the UKOUG, commented, "Winning a Partner of the Year Award is the highest accolade any partner can receive. The awards celebrate the best of the community - the sheer number of high quality entries received this year is a testament to the success of the Oracle partner community. dsp thoroughly deserved their award win which represents their outstanding success within the Database Partner of the Year category."
Chetan Kotecha, Oracle Technology Practice Lead at dsp, said, "We are delighted to be recognised as one of the leading partners within the Oracle User Group community. Winning the Database Partner of the Year award and knowing that more than 2,900 votes were cast from Oracle customers is a real testament to the technology and business support and service dsp has provided to the Oracle community throughout the past 12months."
-- Ends --
About: dsp
dsp are an award winning team of Oracle, E-Business Suite and Microsoft specialists. They develop systems, support customisations, implement seamless upgrades, deliver fully managed or hosted IT systems and offer best-practice professional consultancy.
What's more, they are there 24/7, all year round to make sure you're getting system uptime, all the time.
About: UK Oracle User Group
UK Oracle User Group (UKOUG) is an independent, not for profit membership organisation created to support Oracle stakeholders. Established 30 years ago, UKOUG now has over 8,500 member contacts. It leverages on the collective strength of the combined Oracle community, acting as a single independent voice to influence the future design, functionality and technology that is key to all Oracle users.
UKOUG provides the Oracle community with over 80 events a year across the UK and Ireland to inform and educate its members about Oracle products and new developments. All of its events enable members to network, share knowledge, participate, feedback to Oracle and meet senior Oracle representatives and other industry leaders. UKOUG Conferences are largest collection of independent Oracle events in EMEA.