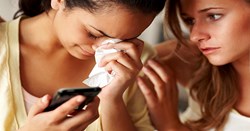 "This Movement against Bullying needs to gain more momentum and that only happens with sharing knowledge and experience and truly empowering children to stand up for their safety online and everywhere."
London, UK (PRWEB) October 17, 2013
Maurice J Elias, PhD, talks to NoBullying.com today about bullying and peer pressure.
Maurice has been a professor of Clinical-Community Psychology at Rutgers University for the past 33 years as well as Director of the Social-Emotional Learning Lab with a focus on creating school-based prevention programs.
When it comes to bullying, he says, "Thanks to all of the research that has taken place in the last 10 years, we are now much more aware of the psychological and educational consequences of bullying. We know it is harmful to the perpetrator, harmful to the bystander, and most harmful to the victims."
As for cyber bullying, he says, "(it) has emerged as the latest form. Fuelled by anonymity and aided by viral transmission, cyber bullying has gained in prominence. But this is just an example of technology. Bullying ultimately reflects on character. No technology causes bullying. That is why ultimately, we need worry less about the modality and more about the motivation."
He stresses on peer pressure defining it as "following other people's goals for you." He adds, "This comes when children do not know their own values, and, in essence, what they stand for. These values need to be communicated clearly by parents and by schools because otherwise, the media will provide those goals for children. And this is what is happening now. Children are being sent subtle and not too subtle messages about the importance of popularity, of having the 'latest' of everything, of engaging in extreme and risky behaviors as a way of getting noticed and appreciated by others, and of resolving conflicts through angry words and violent acts."
Macartan Mulligan, Co-Founder of NoBullying.com, said, "We are thrilled about the vast array of experts in the field willing to share their knowledge and experience with us to combat bullying." He added, "This Movement against bullying needs to gain more momentum and that only happens with sharing knowledge and experience and truly empowering children to stand up for their safety online and everywhere."
Mulligan encourages experts from all over the world to join the Movement against Bullying by contributing to NoBullying.com via media(at)nobullying(dot)com.
He added that parents and teachers should make a point to educate the younger generations about the sad outcome of bullying online and offline.
NoBullying.com features many pages dedicated to parents, teens, teachers, health professionals as well as posts related to cyber safety and the latest news about law making concerning curbing Bullying worldwide as well as inspirational Bullying Poems and Bullying Quotes.
The website makes a habit of updating its bullying statistics and cyber bullying statistics regularly because it is essential to understand how widespread the bullying epidemic is.
He also added that anyone suffering from bullying in any form or way can always reach out to the team of NoBullying and they will be given advice on how to stand up to bullying or protect themselves online.
The founders of the website hope that viewers can truly learn about bullying definition as well as school bullying and workplace bullying and put a serious effort to making it stop by education and caution and not by violence. NoBullying.com is not a mere website but an actual movement against bullying.