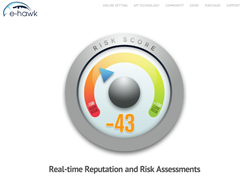 E-HAWK benefits all in the community by fighting spammers & phishers, helping protect the email channel for all senders
Saratoga Springs, New York (PRWEB) October 10, 2013
E-HAWK (http://e-hawk.net/) today announces the first full release of their client reputation vetting service for ISP's, ESP's and other SaaS based EDM providers. Designed for the email & internet industry, the online service empowers the community to vet out bad actors at the point of sign-up.
As an independent third-party, E-HAWK is entrusted with sensitive commercial information by a number of ESPs and ISPs globally. Legitimate email vendors are often targeted by spammers and miscreants costing ISP's and ESP's billions of dollars every year in security measures and damage repair. It's estimated that phishing and spoofing email attacks are costing service providers $3.6 billion annually.
"Your systems are a key connection point to your customers. Identifying bad actors before they become part of your community is critical. We run over one-hundred tests while monitoring and linking high risk users across the community in real-time. Our Risk Score will quickly identify bad actors and allow your sales team to focus on developing good accounts," said Peter Cholnoky, CEO of E-HAWK.
The service was recently reviewed by Email Expert, a leading compliance consultant and Head of Deliverability at Campaign Monitor; Andrew Bonar who said "Whilst many of the players are in competition in a commercial sense with the other members of the E-HAWK community, the disclosure of information benefits all in the community by helping protect the email channel for all senders."
Impressively in pre-launch E-HAWK managed to secure several of the largest players in the email space including Campaign Monitor, who service over 800,000 clients worldwide. E-HAWK already vets over ten thousand sign-ups and account updates every day in real time helping protect the infrastructure for over three million senders.
E-HAWK is the only provider of quality, actionable cyber intelligence, fraud indications and situational awareness for the email & EDM industry. The service is used to manage sign-up risk profiles and help prevent account hijacking for many large enterprises.
The ease with which online marketers and criminals are able to send spam emails using automated accounts is significantly decreased when the E-HAWK real-time vetting engine is integrated into a business platform. E-HAWK enables SaaS vendors to create an effective and efficient on-boarding process that limits risk and accelerates the sales process.