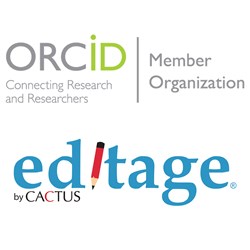 Trevose, PA (PRWEB) October 15, 2013
Editage, the internationally recognized flagship brand of Cactus Communications, Inc. (CACTUS), a premier provider of English-language editing services, announces that it has signed an agreement with ORCID, an independent non-profit, community-driven organization. ORCID provides an open registry of unique researcher identifiers and a transparent method of linking research activities and outputs to these identifiers.
As a Premium member, and as an outreach partner in the Ambassador Program of ORCID, Editage believes that it can help serve the growing need for transparency and research integrity in the academic and scientific communities, and promote the free flow of information among researchers, worldwide, through combined educational initiatives with ORCID.
About CACTUS:
Established in 2002, Editage has been providing English-language editing, author support, transcription, and translation services to the global scientific and academic community, including publishers, journals, universities, academic societies, and other scholarly institutions. Editage is also engaged in conducting regular educational outreach initiatives that include workshops and seminars, especially throughout Southeast Asia and Brazil. Editage offers a variety of publication support packages designed to guide authors through each step of the publication process. In addition, it serves the STM publishing community with pre-press and end-to-end journal production services.
Editage processes and systems are ISO-9001:2008-certified to guarantee high-quality services and complete customer satisfaction. Its security management systems are ISO/IEC 27001:2005-certified to ensure the safety and confidentiality of all client information. Editage / CACTUS has offices in the U.S., Japan, India, South Korea, and China, and a presence through joint ventures in Brazil and Taiwan.
About ORCID:
ORCID (Orcid.org) is a non-profit organization dedicated to providing an open registry of unique person identifiers for researchers and scholars, and to working collaboratively with the research community to embed ORCID identifiers in workflows. ORCID identifiers connect researchers and scholars with their contributions by incorporation into the metadata of publications and other works. ORCID was founded in 2010, a product of conversations among publishers, research funders, professional associations, universities, repositories, researchers, and data providers, who together determined that to solve the name ambiguity problem in scholarly and research communication required an organization that represented the entire research community without proprietary interest. ORCID spans sectors, disciplines, organizations, and nations. It is a community-driven effort to implement a standard and persistent representation of an individual contributor's name, and to link that standard to others, such as document and dataset identifiers, research sample identifiers, grant identifiers, association membership, other person identifiers, and other research activities as determined by the community. Together these linkages support attribution and discoverability across the research and scholarly community.
To learn more contact:
Donald Samulack, PhD
President, U.S. Operations
Cactus Communications, Inc.
1 Neshaminy Interplex, Suite 206
Trevose, PA 19053 USA
Phone: 215-332-0051, ext. 104
donalds(at)cactusglobal(dot)com