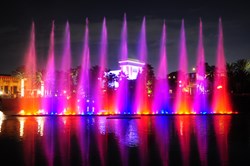 We're thankful for the opportunity to be involved in something that is both entertaining and life-changing for our many guests.
(PRWEB) October 10, 2013
It's one of the most prestigious honors given each year to the best theme parks and family vacation attractions in the world. It's the International Association of Amusement Parks and Attractions' (IAAPA) annual Brass Ring Awards, and this year Trinity Broadcasting Network's Orlando, Florida family vacation destination Holy Land Experience has been named a Brass Ring Award finalist for Live Entertainment Excellence in four categories.
"We are thrilled to announce that two of Holy Land Experience's most popular musical dramas, The Passion and The Four Women Who Loved Jesus, have been nominated for Brass Ring honors in separate categories for Best Overall Production," said Mike Everett, General Manager of Holy Land Experience. "This is a very big honor because we are a finalist alongside some of the industry's biggest attractions, including Dollywood, Six Flags, Busch Gardens, Disneyland Park, SeaWorld, and even Universal Studios Japan. It really is a testament to the quality, creativity, and audience impact that our live theatrical productions have maintained over the years."
Everett noted that The Passion — which recounts with stirring music and intense action the life, death, and resurrection of Jesus Christ — is one of the most powerful and impacting live faith-based dramas created in the last several years. "Along with our other musicals and dramas like The Four Women Who Loved Jesus, it has set the standard for productions that both entertain and encourage our many guests."
In addition, two of the park's valued team members have been nominated for Brass Ring honors in individual categories: Whitney Lynn Rivera, who appears in many Holy Land Experience productions, for Best Female Performer; and Angie Williams, a longtime wardrobe and costume designer at Holy Land Experience, for the Brass Ring's coveted Spirit Award.
"Angie Williams and Whitney Rivera represent the many staff and cast members whose tireless efforts help make what we do a blessing to the tens of thousands of guests who come from all over the world to enjoy the Holy Land Experience," said Everett. "We're very proud for both of them."
Situated in the heart of the nation's most popular vacation spot, the Holy Land Experience offers an unforgettable adventure that immerses visitors in the sights, sounds, historical time frames — and impacting truths — of the Bible. With its colorful and realistic recreations of ancient Israel, exciting dramatizations of favorite Bible stories, and awe-inspiring musical productions, the Holy Land Experience has become a must-see attraction for individuals, families, and groups from across America and around the world.
Among the vibrant features that make the Bible come to life are:
– The City Gate stone arch, modeled after the Damascus Gate in Jerusalem, which leads to the Middle Eastern-themed Jerusalem marketplace complete with an authentic city well.
– The Dead Sea Qumran Caves, a re-creation of the mysterious place where many ancient Bible manuscripts were discovered. The caves contain a replica of the Upper Room in Jerusalem, where guests can participate in a Last Supper Communion with Jesus and His disciples.
– The Wilderness Tabernacle, the heart of worship for the children of Israel after their exodus from Egypt. In this awe-inspiring exhibit the "High Priest" takes guests on a journey through Israel's ancient priesthood, culminating with a breathtaking depiction of God's glory revealed above the Ark of the Covenant.
– The Great Temple, the holy place held in highest reverence among the Jewish people. This is a truly breathtaking representation of the temple that once stood on hallowed Mount Moriah in First Century Jerusalem.
– Calvary's Garden Tomb, a convincing representation of the sacred place where Jesus was laid after His crucifixion — and from which He was gloriously resurrected after three days.
– The world-renowned Scriptorium, a combination museum, library, and research center that holds a collection of priceless manuscripts, scrolls, biblical antiquities, and artifacts. The enlightening presentations that accompany the exhibits offer visitors a close-up view of Bible and church history.
– The new 2,000 seat, state-of-the-art Church of All Nations, where guests will experience life-impacting worship, and might even participate in a live broadcast of TBN's signature program Praise the Lord.
There is also the exquisite Christus Gardens, that features a rare and beautiful art collection of antique figures depicting the life of Christ.
And who can forget the Smile of a Child Adventure Land, where kids will burn up plenty of energy on the totally safe rock-climbing walls and bouncy houses, have their faces painted, and join in kid-style worship and fun!
Guests emphasize that a day at the park is a moving experience that combines tears of joy and worship, along with plenty of laughter and good old-fashioned fun. One guest summed up Holy Land Experience as "the most beautiful place I've ever seen!" Another called her visit "an experience that could not be expressed by words." And a group all the way from Malaysia commented: "We feel like we had a glimpse of heaven, and it made us feel closer to Him."
Mike Everett said the Brass Ring nominations have created a great deal of excitement among the staff of Holy Land Experience. "It's a great honor for all of us to be recognized, both individually and corporately, for the creativity, diligent effort, and commitment to quality that goes into everything we do," he said. "We're thankful for the opportunity to be involved in something that is both entertaining and life-changing for our many guests."
Winners will be announced at the 2013 Brass Ring Awards ceremony, held Wednesday, November 20th, at the 2013 IAAPA Attractions Expo in Orlando, Florida.
For more information about the Holy Land Experience, visit http://www.holylandexperience.com.