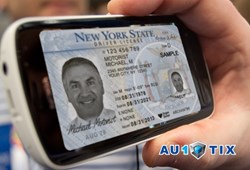 As GM probably already knows, proper automation of customer ID authentication and record generation is an inevitable part of the process... We would encourage GM to explore the latest solutions.
Nicosia, Cyprus (PRWEB) October 12, 2013
General Motors shakes the auto market with announcement of the planned extension of their Shop-Click-Drive online shopping application, across their entire 4,300 dealer network (http://online.wsj.com/news/articles/SB10001424052702303492504579111752452221502).
While Tesla Motors have been selling cars online earlier, the adoption of online car selling tools by a major player such as GM marks the inevitable adoption of online shopping by the entire market. GM pointed out that the program isn't intended to replace dealers or showrooms, but rather enable them to reach the growing segment of young and tech-savvy customers, who prefer to involve online in their shopping behavior. Experience shows that even customer who prefer to "shop" for their car online do prefer to go to the dealer showrooms at least to test-drive and pick up their car.
AU10TIX has been helping the automotive market automate customer ID authentication and record generation for some time now. Financial services companies such as The funding Corporation and Renault-Nissan Finance in the UK have already adopted a complete paperless customer qualification and onboarding system based on AU10TIX technology. Such automation provides not only better fraud protection but also helps speed-up customer processing and reduce record generation errors while saving both front-office and back-office overhead.
In the online marketplace automation may make an even bigger difference. Online means significantly higher application volume, 24/7, and significantly shorter customer patience span. Early to recognize the need for effective automation of the handling of online-submitted ID documents, AU10TIX has developed the BOS solution. The AU10TIX BOS system has already proven superior to conventional solutions in its ability to authenticate and convert digital images of ID document to workable digital records. Such images can be produced by customers using smartphone cameras, home scanners, webcams, etc. The AU10TIX BOS system for online and mobile ID image authentication and processing is being used by online service providers who operate worldwide.
"We welcome the trailblazing initiative of GM", says Ron Atzmon, Managing Director of AU10TIX: "They join the forward looking car financing companies who already deployed our solutions. Online is a different ball game. As GM probably already knows, proper automation of customer ID authentication and record generation is an inevitable part of the process. We know that because we are already there. We would encourage GM to learn about the latest solutions and plan their integration into the process sooner rather than later".
"It is already well understood that automating online ID image authentication and record generation is not just a question of fraud prevention or regulatory compliance. It is also about sheer customer acquisition success rates", says Ofer Friedman, VP Marketing of AU10TIX: "Yes, it does save resources and can increase the effectiveness of risk management systems. But the big bonanza is about being able to speed up customer acquisition and reduce churn. That means another business growth leverage".
About AU10TIX
AU10TIX Limited, a fully owned subsidiary of ICTS International N.V, deals with the authentication and digitization of identifying documents including Passports, identity cards, driving licenses and other complementary identifying documents. The company specializes in implementing hardware & software based applications used for scanning, identifying, content retrieval, authentication and validation of identifying documents. AU10TIX is a pioneer of all-channel (front-end and online) ID authentication and processing solutions. The company's products drastically reduce identifying document-based fraud, reducing the costs associated with client processing and enabling effective regulatory compliance, while making the sales and support operations speedier and considerably more efficient. For more information, visit http://www.au10tix.com
About ICTS International N.V.
ICTS specializes in the development and implementation of innovative security concepts and solutions designed to meet the needs of a variety of industries, mainly aviation transportation, border control and sensitive facilities. ICTS International benefits from 30 years international experience in transportation security, with a particular emphasis on high-risk environments, passenger processing transactions and the integration of security services to provide a comprehensive security solution. It also offers a wide variety of customized training programs, tailored procedures and a wide range of security consulting services. The company has developed and implemented unique technological solutions, based on its comprehensive approach to security, designed to enhance the level of security while accelerating the security check process. For more information, visit http://www.icts-int.com
This press release contains "forward-looking statements" within the meaning of the Private Securities Litigation Reform Act of 1995, regarding the Company's business strategy and future plans of operations. Forward-looking statements involve known and unknown risks and uncertainties, both general and specific to the matters discussed in this press release. These and other important factors, including those mentioned in various Securities and Exchange Commission filings made periodically by the Company, may cause the Company's actual results and performance to differ materially from the future results and performance expressed in or implied by such forward-looking statements. The forward-looking statements contained in this press release speak only as of the date hereof and the Company expressly disclaims any obligation to provide public updates, revisions or amendments to any forward-looking statements made herein to reflect changes in the Company's expectations or future events.
Contact:
AU10TIX
Ofer Friedman, VP Marketing
Email: ofer.friedman(at)au10tix(dot)com
Tel.: +972-50-4 71 71 50
ICTS International NV
Alon Raich
Tel.: +972-974-47770
Email: mail(at)ictsinternational(dot)com