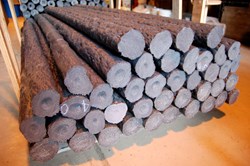 "Waste Not Technologies and good fences make great neighbors!"
Tobyhanna, PA (PRWEB) October 12, 2013
Pocono Mountains Economic Development Corporation Executive Director Chuck Leonard expects a number of new jobs to be created when a new recycled products manufacturing facility is opened in 2014.
Waste Not Technologies, LLC today broke ground for a new 12,000 square foot manufacturing facility in the Pocono Mountains Corporate Center (PMCC) East in Coolbaugh Township, PA.
The company received a grant of $500,000 of Local Share Account (LSA) revenues generated by Mount Airy Resort and Casino and distributed by the Commonwealth Financing Authority. Waste Not is using a portion of the grant to help cover construction costs of a manufacturing center where recycled plastic, mostly in the form of milk jugs, will be used to manufacture post and rail fence. The remaining grant funds are directed toward the purchase of additional equipment for the company's expanded operations.
"Patrick Kelley (owner of Waste Not Technologies) was committed to getting this facility off the ground here in Monroe County," says Leonard. "He and his company truly represent the kind of entrepreneur and small business that the LSA grants are designed to encourage. We're looking forward to his success and continued growth here at PMCC East."
Waste Not Technologies is a family owned business that currently operates out of a pilot plant facility in Saylorsburg, PA. The company's brown plastic rail posts are designed to be durable and hide dirt and mildew, ensuring that the fence remains aesthetically appealing for many years. The fencing is sold through Close the Loop Company located in Kunkletown, PA or by calling 570.629.8414.
Products are made in USA from state-of-the-art recycling of plastic waste used as a non-wood alternative building material for the fencing and plastic lumber market including: recycled plastic fencing, posts, rails and vineyard poles. Close the Loop Company also offers glass mulch, rubber mulch, rubber landscape timbers, rubber pavers and more made by small businesses across the US from waste materials.
The Pocono Mountains Economic Development Corporation is a non-profit economic development corporation dedicated to creating jobs for Monroe County residents, expanding the county's tax base and attracting new investment with the direct support of the Monroe County Commissioners. More information on economic development in Monroe County can be found at http://www.pmedc.com.
More information on the local share assessment account is available at http://www.newpa.com or by calling 866.466.3972.