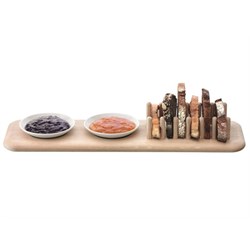 The addition of the two new ranges compliments the whole LSA collection
Birmingham, West Midlands (PRWEB UK) 11 October 2013
Beautiful Homes Direct have jumped at the opportunity to feature the new Polka and Dine ranges as LSA International, a privately owned UK company, is considered one of Europe's leading brands of contemporary handmade glass and porcelain. Celebrated for their unique style, original designs and enduring quality they launch 250 new products each year, all designed by the Creative Director Monika Lubkowska-Jonas and manufactured in the EU.
The early success of the Polka range has been led by one of its standout products, the LSA Polka Tealight Holders. With winter fast-approaching, these vintage-inspired tealight holders create soft, flickering candlelight which illuminates its delicate hand-applied pearl lustre.
Following its successful launch, two new tableware designs have been added to Dine's 45+ piece collection. This season, an innovatively designed toast rack set and a large bowl with hand-finished oak servers join the comprehensive range. Combining porcelain's smooth finish with the texture and warmth of sustainably sourced oak, Dine was designed to add pleasure to everyday practicality.
As the holiday season approaches, the popular Jazz range offers inspiring gift ideas such as, the Jazz Champagne Flutes, which are beautifully shaped and embellished with black dots, swirls or flourishes.
Beautiful Homes Direct also offer the comprehensive Wine collection which features the best-selling Stemless Red Wine Glass. This glass is contemporary in design and is handmade with a fine rim and a closed bowl, designed to capture the wine's bouquet.
Kieran Ford, Head of Business Development at Beautiful Homes Direct believes that "the addition of the two new ranges compliments the whole LSA collection, and would instantly add class to any home".
Beautiful Homes Direct also offers customers a one-week "try-it-and-see" grace period on purchases. Customers who are unhappy with their purchase or receive goods that have been damaged in transit can have these collected by Beautiful Homes Direct and replaced or refunded free of charge.
About Beautiful Homes Direct:
Beautiful Homes Direct was founded in 2007 as an online retailer of quality designer homeware, combining affordable prices with excellent customer service. The company stocks a wide range of glassware, dinnerware, home accessories and appliances to complement both contemporary and classic styles, and seeks out the best leading names in homeware design including LSA international, Dartington Crystal, Jamie Oliver and Gordon Ramsey.
For more information, please visit: http://www.beautifulhomesdirect.com/.