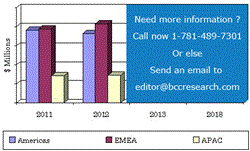 Wellesley, MA (PRWEB) October 12, 2013
According to a new technical market research report, Global Markets for Satellite Technologies from BCC Research (http://www.bccresearch.com), the global market for telecommunication components, modules, and devices used in satellite technologies was valued at $18.5 billion in 2012 and is expected to reach $19.5 billion in 2013. BCC Research projects the market to grow to $21.4 billion by 2018, and register a five-year compound annual growth rate (CAGR) of 1.9% from 2013 to 2018.
Telecommunication components, modules, and devices are integral to the crucial "eye in the sky" and data-relay functions that satellites perform for businesses and governments worldwide. At the ground monitoring-and-control level, telecommunication technologies help to control the satellite, transfer payload data, and allow end users to communicate with these satellites.
Satellites effectively relay signals from one point to another. They provide effective access mechanisms to locations and resources on the earth's surface and outside. More importantly, they provide perspective and insight that is invaluable and cannot be replicated by other access mechanisms. Satellites derive their strength from their vantage location. Their ability to serve an impressive variety of purposes makes them coveted resources. Consequently, satellites and associated space research programs are accorded the highest priority by their respective national governments.
According to this BCC Research report, the U.S. is the principal country market in the Americas region. It is the largest investor in satellite and space-development technology over other countries by a huge distance. The recent decades have witnessed emerging competition as countries in the Western European belt, as well as China and India in the Asia-Pacific region, due to the demonstration of considerable investment commitment towards satellite technologies. The study also makes note of Russia, one of the earliest champions of satellite technology.
Communication forms the lifeline for satellites, establishing the very basis of their effectiveness. Communication equipment and solutions are present on the satellite itself, on ground stations and on teleports, as well as in end-user premises and devices. Continuing developments in satellite functionality and demand as well as advances in end-user side applications will drive growth in this market over the next five years.
This new report from BCC Research provides an overview of the satellites technologies market, which includes telecommunications components, modules, and devices. It analyzes global market trends, with data from 2011 and 2012, estimates for 2013, and projections of compound annual growth rates (CAGRs) through 2018. The study reviews how commercial applications of satellites have developed almost hand-in-hand with defense, communications, and environmental applications.
In addition, this report presents coverage of broadcast and network management equipment and devices, including transponders, antennas, gateways, and terrestrial management infrastructure; and coverage of user premise-based and user-operated equipment and devices, including satellite phones, satellite radios, VSATs, navigation devices, reception antennas, and set-top boxes. Finally, this report provides a breakdown of satellite applications, such as defense, weather, communications, and navigation, as well as end-use applications, such as gaming, media, and entertainment; telecommunications; education and research; defense and government; maritime; logistics; and automotive.
This report provides a granular analysis of the market for telecommunication components, modules, and devices in satellite technologies. It will be of value to telecommunication component makers to identify the market size for their products in each operating segment, as well as to anyone who needs to know where this market is heading over the next five years.