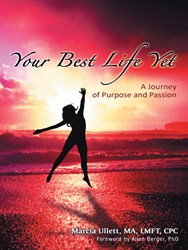 You need to focus in order to start building the next phase of your life.
Los Angeles, CA (PRWEB) October 14, 2013
Do you find yourself lacking purpose or vision within your life? Are you seeking something more in life but are unsure of where to look?
As a certified professional coach and psychotherapist, Marcia Ullett has made it her mission to help others uncover their true potential and lead a life that's worth celebrating. After working through her own troubling times of alcohol and drug addiction, Ullett wants to help others engage in a journey of passion and purpose.
Her new book, "Your Best Life Yet," is an extension of Ullett's workshops, seminars and articles and is designed to lead readers to live a more purpose-driven life. Ullett shares insight on the benefits of mediation, journaling and discovering one's individual purpose in life.
"If you become too attached to the circumstances in which you find yourself or to the way life ebbs and flows, you will certainly be distracted from your path and will probably grow anxious," said Ullett. "You need to focus in order to start building the next phase of your life."
"Your Best Life Yet" helps readers discover the secret to lasting self-motivation as well as sharing suggestions and useful tools to what it is that people really want and how to receive it gracefully.
"Your Best Life Yet"
By Marcia Ullett, MA, LMFT, CPC
ISBN: 978-1-4525-7688
Retail price: $14.99
Available at http://www.amazon.com and http://www.barnesandnoble.com.
About the Author
Marcia Ullett is a licensed psychotherapist and has helped thousands of people in her private practice as well as her work at various treatment centers, both as a clinician and a clinical supervisor. In 2006, she studied to become a certified professional coach through the College of Executive Coaching. Ullett's 25 years of clinical experience have been of great service to her clients, whom she approaches as a partner, helping them focus on their strengths and deepest values.
###
EDITORS: For review copies or interview requests, contact:
Jonathan McAfee| 317-602-7137| jmcafee(at)bohlsengroup(dot)com
(When requesting a review copy, please provide street address.)