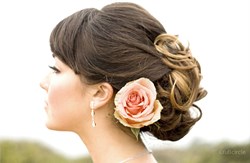 "Facebook and other social media platforms are essentially the cheapest and most effective form of getting the word out there about your business."
London, UK (PRWEB) October 16, 2013
ProfileTree interviews Claire, owner of Claire Style, for an interview released today.
When asked about her life as a makeup artist, Claire describes it as "I have been doing this work since the late 90's and I still enjoy it and it never gets old! I think it's because I truly enjoy being with people and helping them to look and to feel their best; especially on an important day or for a significant event like a wedding."
She says her greatest achievement is "staying relevant in an industry that is constantly changing. Having longevity and ongoing success with clients and developing myself into a seasoned and highly experienced professional."
Her advice to anyone starting a business is "patience, tenacity, and passion. Being in this business is truly a labor of love. If you don't really love it, find something else to do."
Ciaran Connolly, Co-Founder of ProfileTree says, "Facebook and other social media platforms are essentially the cheapest and most effective form of getting the word out there about your business."
Profile Tree's main goal is to help small business owners reach new customers every day with the most innovative online marketing tips and techniques.
About ProfileTree: ProfileTree is a free listing service where self employed and small business owners can create an online marketing profile. From pencil or portrait artist to self employed service providers - anyone can create a skills profile on ProfileTree for free.
The website also enjoys sharing motivation photos for the self employed, helping with focus and drive. From professional wedding photographers to anyone offering a service - it can be listed online today.