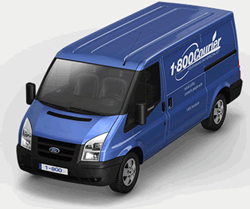 Atlanta, GA (PRWEB) October 11, 2013
1-800 Courier announces prescheduled courier service requests. The same-day courier has made the announcement in an effort to market its value-added courier service options and increase sales growth. A-1 Express pursues to be the best choice for same-day delivery nationwide.
1-800 Courier prescheduled courier service requests consist of clients that have a need for same-day delivery on a future date. The prescheduled date can be as early in advance as the client requests. 1-800 Courier is equipped with the most current courier technology to preschedule any service orders. Once the prescheduled service date arrives, the courier will perform the order in the same manner of an on-demand delivery.
Most prescheduled courier service requests are made by clients for an upcoming occasion or event. From one pallet to a multiple of boxes, 1-800 Courier has the capability to pick up and deliver on time. Clients can also preschedule the nationwide courier to pick up their items at the completion of their event and return them to the clients' origin.
In the event the preschedule service date changes or there is location adjustment, 1-800 Courier is available 24/7 to meet a clients' same-day delivery needs. For any special prescheduled courier service requests, clients can contact 1-800 Courier and a sales representative will develop an optimal delivery solution. 1-800 Courier strives to provide a service level that is easy and convenient for its' clients, creating a superior customer experience.
1-800 Courier is a premier same-day courier offering transportation and distribution services. From small packages to palletized freight, 1-800 Courier delivers fast. As a leader in the courier industry, their goal is to perform optimal courier logistic solutions and superior customer service every time. This New Jersey Courier provides same-day delivery successfully for over 1,500 clients, including Fortune 500 companies throughout the US.