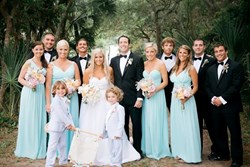 "Getting an online business profile for a start-up company is a key pillar that cannot be missed or ignored, it can support or demolish a brilliantly executed business."
London, UK (PRWEB) October 18, 2013
The bride and groom spend days and months planning their big day and yet the actual day goes by in a flash. So getting a person or a company to plan every single detail and ease the pressure off the pride is more than important; it is borderline a necessity. ProfileTree spoke to the owner of Pure Luxe Bride about planning the perfect wedding and being there for the bride.
The owners describes a day in the life of a wedding planner by saying, "Honestly, every day is different but can range from a day in the office on calls and returning e-mails to a day full of meetings with Charleston's top wedding vendors."
She lists the special skills needed in event planning as, "Confidence and organization are definitely key. If you aren't confident and don't have organization someone is going to run the show for you."
As for marketing, she says, "I'm a marketer at heart so I always love playing with all elements of social media to promote our brand. It helps our clients keep track of our daily routine and past weddings. It's the storage house for all things Pure Luxe Bride. We even do live pictures, tweets and posts."
According to Ciaran Connolly, Co Founder of ProfileTree, "Getting an online business profile for a start-up company is a key pillar that cannot be missed or ignored, it can support or demolish a brilliantly executed business."
Profile Tree's main goal is to help small business owners reach new customers every day with the most innovative online marketing tips and techniques.
About ProfileTree: ProfileTree is a free listing service where self employed and small business owner can create an online marketing profile. From Pencil or Portrait Artist to Self Employed Service Providers - anyone can create a skills profile on ProfileTree for free.