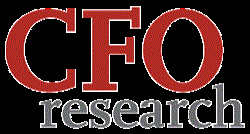 The CFO Five insights typically represent thinking that is always compelling and often counter-intuitive
New York, NY (PRWEB) October 10, 2013
CFO Research has released its annual listing of the "CFO Five" insights for senior finance executives that appeared in its research reports over the past twelve months:

"Each year there are a number of research findings that jump off the page," says Celina Rogers, VP of Research at CFO Publishing. "The CFO Five insights typically represent thinking that is always compelling and often counter-intuitive. We are grateful that our corporate underwriters allow us the independence and editorial freedom to share this work with the community of senior finance executives."
About CFO Research
CFO Research delivers unparalleled access and industry expertise to companies seeking to reach senior decision makers in finance. CFO Research underwriters demonstrate thought leadership by offering senior finance executives valuable, co-branded information on topics that are of interest to audience and underwriter alike.
CFO Research is part of CFO Publishing LLC, which also produces CFO magazine, CFO.com, and CFO Conferences. http://www.cfo.com/research