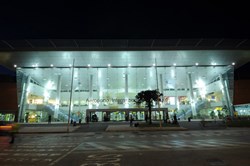 (PRWEB UK) 11 October 2013
Following a public bid process, Buro Happold has been selected by the Italian National Civil Aviation Authority to carry out energy audits and efficiency studies across fifteen airports in southern Italy, all of varying passenger capacity and size in terms of building stock.
Buro Happold will be carrying out extensive energy efficiency analysis on each airport, using cutting-edge software to simulate the energy usage of the buildings and their supporting systems in order to understand heating, cooling, ventilation, lighting and electrical demands.
Having assessed the current energy usage of each site, the engineering consultancy will then identify measures that could be implemented to make reductions. Using additional modelling simulations, they will test these solutions against the existing performance results, evaluating their efficacy and how easily they can be incorporated into current airport systems to fully understand the value and viability of each option.
From this, Buro Happold will be able to accurately predict the results of suggested improvements, enabling them to advise the client on the most environmentally sound, sustainable and cost-effective solutions to improve the energy efficiency of each airport.
The analysis will define an energy benchmark system which can also be adopted for the definition of energy targets and guidelines for the design and construction of new airports.
The airports are located in four regions; Calabria, Campania, Puglia and Sicilia.