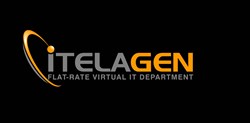 "The ever-increasing line of products and services available with ITelagen all have one thing in common: the client," expresses John O'Keefe, CEO of ITelagen.
Jersey City, NJ (PRWEB) October 10, 2013
ITelagen, Inc., a leading provider of IT support and cloud-based hosting for healthcare, finance and small business, announces that it has been named to the 2013 CRN Fast Growth 150 list. The annual list features the fastest-growing solution providers in the technology industry based on two years' growth of net sales from fiscal year 2010 to fiscal year 2012. ITelagen grew 144.45% through new partnerships, expanded services, and product offerings.
In August 2013, ITelagen announced the release of UroWorx™, a series of urology-focused templates geared toward enhancing the use of NextGen® Ambulatory EHR for urologists, and more recently creating buzz is the announcement of ITelagen's innovative EHRAnywhere™ platform, a technology that delivers EHR and healthcare applications to iPad and Android mobile devices.
"The success and growth of ITelagen in the past year has been strongly attributed to the desire to empower physicians to create efficiencies and mobility in their delivery of patient care. Our clients seek immediacy with accuracy, streamlined workflows paired with quality, and growing revenues. The ever-increasing line of products and services available with ITelagen all have one thing in common: the client," expresses John O'Keefe, CEO of ITelagen.
"Despite the challenges of an evolving market, these Fast Growth companies demonstrate an unmatched ability to nimbly and effectively respond to market demands, fulfill customer needs and remain steadfast in their commitment to innovation," said Robert Faletra, CEO, CRN. "We are thrilled to shine a spotlight on the successful companies that keep the channel top of mind and serve as an example for the rest of the market."
A sampling of the 2013 Fast Growth list is featured in the September issue of CRN Magazine and is featured online at http://www.crn.com. The complete list of 150 companies will be available in the CRN Tech News app, available for iPad and Windows 8.
About CRN:
CRN has been serving the IT channel community as the pre-eminent source for information and strategic guidance for more than three decades. CRN remains the market leader in Channel news, delivering intelligence, actionable advice and forward-thinking business strategy to the North American IT channel. Today's CRN is a multi-media platform that includes the magazine, website and tablet app or mobile to reach our loyal and expanding channel audience in every way they want to engage. To learn more about CRN, visit http://www.crn.com.
Contact:
Betzi-Lynn Hanc
CRN
508.416.1182
betzi(dot)hanc(at)ubm(dot)com
About ITelagen:
ITelagen® redefines Healthcare IT for medical practices by providing electronic health records (EHR) as part of an entire back-office solution that includes unlimited onsite & remote technical support for all of your staff and secure hosting of your patient data. We are more than just desktop technicians, but a complete healthcare technology team made up of CIO's, engineers, and healthcare EHR experts. With ITelagen, you can have all the benefits of your very own fully-staffed IT Department, without the expense of an in-house staff. By combining certified EHR experts with IT and hosting, ITelagen becomes the single point of contact and "One-Stop Shop for EHR®" for IT and EHR infrastructure, all for a flat monthly subscription fee. For more information, visit ITelagen on the Web at http://www.itelagen.com. Follow ITelagen on Twitter at https://twitter.com/ITELAGEN, Facebook at http://www.facebook.com/itelagen, or LinkedIn at http://www.linkedin.com/company/itelagen.
Contact:
Emile Ondrus
ITelagen, Inc.
201-239-8405
press(at)itelagen(dot)com