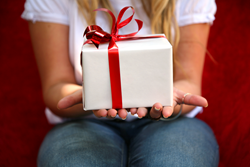 A whopping 96% of the respondents will purchase at least one item online this Holiday Season.
Toronto, Ontario, Canada (PRWEB) October 10, 2013
People are going to shop until they drop --- on their phone that is. The holidays are just around the corner and accepting Credit Card payments online via Smartphone is on the rise!
eDigital Research shows that 48% of Smartphone owners plan to do half of their Holiday Shopping using their mobile or tablet device this year.
The survey of 2,000 consumers also discovered that a whopping 96% of the respondents will purchase at least one item online this Holiday Season - with 48% purchasing at least half of their Holiday gifts on the internet.
The results highlight the need for retailers to ensure that all their touch points - no matter how many they operate accept credit card payments online in order to maximize Holiday sales. Is your business' online presence prepared?
"The days of busy Holiday spending are fast approaching," remarks Parry Rosenberg – Vice President of Sales and Marketing at MONEXgroup, "as a business owner it's imperative to be equipped with the most secure way to accept debit and credit card payments online to capitalize on these online holiday shoppers – who seem to already be shopping!"
When nearly half of Canadian consumers are looking to purchase holiday items using their Smartphones - Canadian small business owners must adapt to this trend in order to stay competitive. Only those small business merchants who have the most convenient, easy-to-use and secure electronic payment solutions will reap the rewards.
Switch to MONEXgroup as an early Holiday gift to your business and take advantage of a wide range of online payment options that make entry into the virtual space as easy and low-risk as possible.
MONEXgroup is the leading independent provider of payment processing services in Canada, offering the lowest rates in the industry. Their services include: debit card and credit card point-of-sale (POS) terminals, mobile, integrated and e-commerce online payment products.
MONEXgroup serves over 14,000 merchant accounts across Canada in all market segments including: restaurants, business-to-business, professional services, leisure and hospitality.