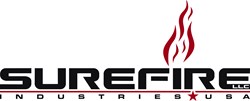 Houston, Texas (PRWEB) October 10, 2013
Surefire Industries USA today announced that the company has been awarded a multi-million dollar order for additional fracturing equipment from Oasis Petroleum, a Houston-based independent exploration and production company operating in the Williston Basin.
Surefire Industries will be providing well stimulation and completion equipment that will enable Oasis Petroleum to deploy a second full fleet of equipment to their operations in the Bakken.
"We are extremely pleased to once again partner with Oasis Petroleum and supply them with a second fleet," said Jamie Stewart, president of Surefire Industries. "This purchase, we believe, is a testament not only of their loyalty, but also in the quality of Surefire equipment."
This latest order is further evidence of a continued uptick in the oilfield equipment industry, according to Stewart. "We continue to see signs of increased activity in the industry and are very excited about the possibilities that lie in front of us."
ABOUT SUREFIRE INDUSTRIES USA
Surefire Industries USA is a leading manufacturer of superior quality well stimulation and completion equipment for hydraulic fracturing, coiled tubing, cementing, nitrogen and fluid pumping services; and, offers aftermarket sales and services, field services, rebuild and rental equipment. The company's headquarters and manufacturing facilities are located in Houston, Texas. Surefire USA's rebuild and service center is located in the Dallas/Fort Worth metroplex. More information about Surefire Industries USA can be found on their website: http://www.surefireindustriesusa.com/.