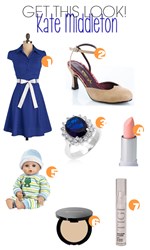 Kate Middleton is the classiest costume for Halloween 2013 by far!
(PRWEB) October 12, 2013
TheBeautyPlace.com pieced together a replica of Kate Middleton's flawless look so ladies everywhere can look just as perfect on the night of Halloween. The first step is to find a blue and white polka dot dress that is conservative, yet fashionable. Kate was able to hide her swollen belly but accentuate her figure with a cinched waist. The next step is neutral mary jane pumps to complete the outfit. Then invest in a gorgeous blue mock sapphire and diamond ring. Remember it is Halloween, so the more dramatic the bling, the better.
Obviously the outfit wouldn't be complete without baby Prince George so a baby doll is an absolute must. And while Halloween makeup is usually drastic, this costume only requires the bare minimum.
Use a pressed powder foundation to cover blemishes and discoloration. Avoid heavy eye makeup. The appearance should be fresh. Use a pale pink lipstick and top it off with a clear lip gloss.
Voila! With the above steps carefully followed a small town girl is instantly a Royal Princess.